An author is the originator of a written work. Well, we had four of the best in our area speaking at our February luncheon. It all took place on Wednesday, February 17th at the Bala Golf Club. Our MC for the afternoon was member (and author) Alan Tripp.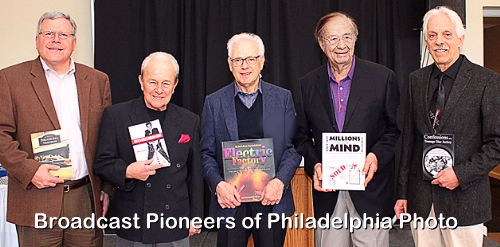 (Left to right) Bill Shull, Charlie Gracie, Larry Magid, Alan Tripp and T. Morgan
Broadcast Pioneers Luncheon
Bala Golf Club, Philadelphia
Wednesday, February 17, 2016
(Photo by member Bob Kravitz)
Here's our speakers were (in alphabetical order):
Charlie Gracie, author of "Rock & Roll's Hidden Giant: Story of Rock Pioneer
Larry Magid, author of "My Soul's Been Psychedelicized: Electric Factory"
T. Morgan, author of "Confessions of a Teenage Disc Jockey" & WMGK jock
Bill Shull, author of "Philadelphia Television" (with hundreds of great photos)
TRIBUTE TO ED KLEIN!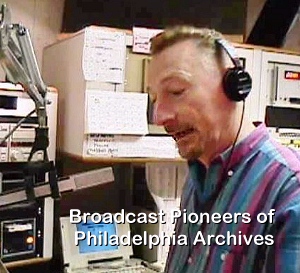 Broadcast Pioneers member Ed Klein, former Music Director of WPEN (when it was the Station of the Stars) passed away earlier in February. We did a tribute to Ed just before our regular luncheon program began. Speaking were Dean Tyler, Rhonda D. Hibbler and Andy Kortman.
It all took place on Wednesday, February 17th at the beautiful Bala Golf Club, 2200 Belmont Avenue in Philadelphia! Just minutes away from Channels 6, 10 and 17 plus the radio stations in Bala Cynwyd.
COMPLETE VIDEO!
(videos courtesy of Broadcast Pioneers VP Brad Seecof and Metramedia Broadcasting & Studios)