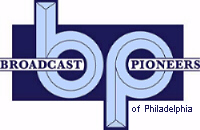 (Left to right) Joe Earley, Sally Starr, Patricia & W. Carter Merbreier
Broadcast Pioneers Luncheon, Bala Golf Club, Philadelphia
Wednesday, March 20, 2002
On Wednesday, March 20, 2002, the Broadcast Pioneers of Philadelphia held our monthly luncheon at the Bala Golf Club in Philadelphia. It was a very stormy day for the Delaware Valley, but it was bright and sunny inside.

The program for this meeting was "Philadelphia TV Kids' Hosts." The moderator was Bill "Wee Willie" Webber, a kids' hosts on several channels. Our guests were Joe Earley, Sally Starr and Pat & W. Carter Merbreier.

Joe Earley portrayed the mechanical man called Mr. Rivets. The show was on the air from 1952 to 1956. Sally Starr, still an icon in Philadelphia was a kids' host on Channel 6 for two decades. Pat & W. Carter Merbreier were Captain and Mrs. Noah on Channel 6 for a quarter of a century.
Watch what Sally Starr said!
Pat Delsi makes a comment about Sally!
Here's what someone else said about Sally!
Watch what W. Carter Merbreier said!
See what Pat Merbreier mentioned!
This is Carter's answer to a question from Marc Howard!
Watch Bill Webber
Bill answers a question!
Then there was a question or two

From the official archives of the Broadcast Pioneers of Philadelphia
© 2008, Broadcast Pioneers of Philadelphia
All Rights Reserved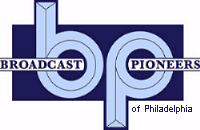 The e-mail address of the Broadcast Pioneers of Philadelphia is pioneers@broadcastpioneers.com