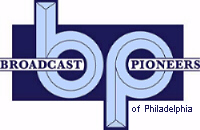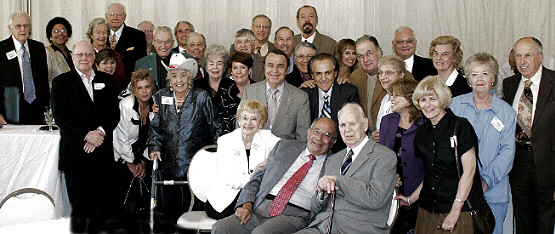 Some the Channel 6 people who attended this luncheon
Bala Golf Club, Philadelphia
Wednesday, September 19, 2007
Wednesday, September 19, 2007 was our first luncheon of the new season (2007-2008) and it was another big one. May 2007's luncheon set a record with 98 attendees and June 2007 broke that milestone with 107 people.
This luncheon set another record, 108. It was the biggest lunch in the history of the organization. It was jammed-packed with everyone who's anyone in Philadelphia broadcasting.
Starting off the festivities was Broadcast Pioneers members Joe Pellegrino and Bob Kravitz singing the theme song of "Action News." Plus, we gave everyone a copy of "The History of WFIL-TV" written by Roger Clipp in 1964.
It was a one page document all about Channel 6's early years. Clipp was Walter Annenberg's right hand man during the time Triangle owned the station. Channel 6 came on the air on Saturday, September 13, 1947 as WFIL-TV. On April 27, 1971, the call letters were changed to WPVI-TV when Capital Cities took control of the station.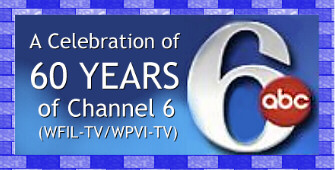 We also saluted Irv Ross, former Channel 6 Director of Engineering and Marie Pantarelli, former Administrative Associate who were presented with our Distinguished Service Award. Presenting the awards was Sam Clipp, son of WFIL-TV mogul Roger Clipp.
Listen to Irv Ross
Listen to Marie Pantarelli
Next we had introductory remarks by Broadcast Pioneers member Dave Roberts. Then we began our panel discussion hosted by moderator/panelist, Paul Norton, a member of our board of directors and editor of our wonderful newsletter.
Listen to Dave Roberts
Listen to Paul Norton
On the panel was:
Richard Kellman, former reporter for Action News & Famous 56 radio
George Koehler, former WFIL-TV General Manager & former Gateway owner
Liz Matt (Lizabeth Starr), former co-host of Channel 6's AM Philadelphia
W. Carter Merbreier, otherwise known to us as "Captain Noah"
Linda Munich, Vice-President of Public Affairs for WPVI-TV, Channel 6
Sally Starr, everyone's favorite TV Cowgirl, a mainstay at Channel 6 for decades
It all took place on Wednesday, September 19th at the beautiful and historica Bala Golf Club, 2200 Belmont Avenue (across the street from the State Police) in the Wynnefield section of Philadelphia. Only minutes away from Channels 6 & 10 and the radio stations in Bala Cynwyd.
Meet and greet (networking) started at 12 noon with a full-course lunch including salad, coffee or tea and dessert being served at 12:30 pm. There was also a crudité and cheese table.
The cost was still only $25 per person and was open to all our members, any person in the industry or associated fields; both people now active and retirees. You did NOT have to be a member to attend.
Listen to what our panelists said:
Richard Kellman
George Koehler
Liz Matt (Lizabeth Starr)
W. Carter Merbreier (Captain Noah)
Linda Munich
Sally Starr
George Koehler was General Manager of of the radio and television division of Triangle Publications. The station here in Philadelphia was WFIL Radio. George talks about Famous 56.

From the official archives of the Broadcast Pioneers of Philadelphia
Photo originally donated by Broadcast Pioneers member Bob Kravitz
© 2007, Broadcast Pioneers of Philadelphia
All Rights Reserved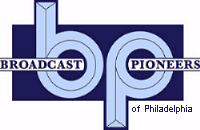 The e-mail address of the Broadcast Pioneers of Philadelphia is pioneers@broadcastpioneers.com