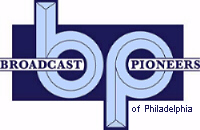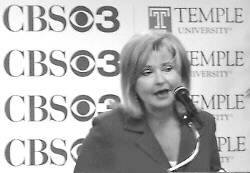 Broadcast Pioneers member Pat Ciarrocchi
at Temple University's Paley Library
Wednesday, September 26, 2007
On Wednesday morning, September 26, 2007, there was a gala event in the Lecture Hall of Paley Library. The reason? The dedication of the gift of 25,000 to 40,000 historic video tapes from CBS3, KYW-TV to the Temple University Urban Archives.
The Broadcast Pioneers of Philadelphia was an important part of this arrangement. Without our effort, these tapes may never have been saved for future generations. This is what we do. We are the keeper of the torch lighting the way for the future.

From the official archives of the Broadcast Pioneers of Philadelphia
Photo originally donated by Broadcast Pioneers member Gerry Wilkinson
© 2007, Broadcast Pioneers of Philadelphia
All Rights Reserved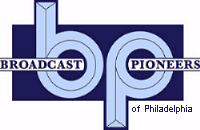 The e-mail address of the Broadcast Pioneers of Philadelphia is pioneers@broadcastpioneers.com