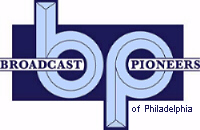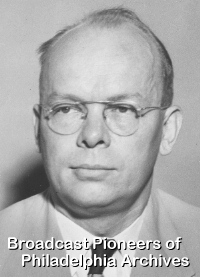 David Miller
1953
David J. Miller Jr. was born in Philadelphia on June 7, 1913. After leaving high school before graduating in the early 1930s he went to work for Philco at C & Tioga Streets in Philadelphia, working on the radio assembly line. He had a gifted aptitude for anything electrical that was soon demonstrated at the plant. At that time, Philco was establishing an experimental television lab. It would become one of the first television stations in the United States using the call letters W3XE.
Dave began working in the same lab as the person usually credited as the inventor of television, Philo T. Farnsworth, who was at Philco from 1931 through 1933. Dave was said to be a quick learner and soon passed the amateur radio license examination obtaining his HAM radio license, broadcasting non-commercially under the call letters W3HCX.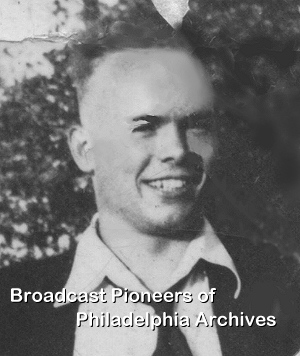 David Miller
1933
He was a brilliant self-taught engineer, building his own transmitters and receivers. At Philco, during the late 1930s and early 1940s, he took a lead role in developing and establishing television signal broadcasting formats as he was elevated to chief engineer and thus was a key member of the team that put the commercial television station, channel 3, WPTZ, on the air. His experiments with signal patterns helped in establishing the industry-accepted scan rate of 525 lines.
Also, while at Philco he was awarded the patent for a variable gain amplifier, a very complicated electronic circuit that enabled "fade in and fade out" capability of television signals. This technique for slowly changing scenes is used today throughout the television and movie industry. (ref. patent US2412279A, dated 1944).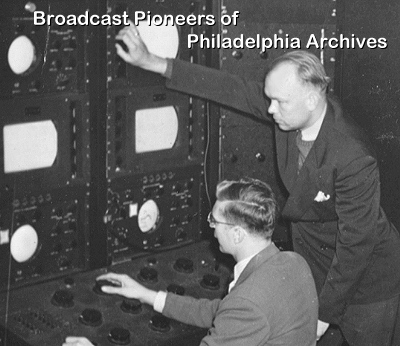 (left to right) unidentified male, seated and David Miller, standing
Philco Plant
C and Tioga Streets, Philadelphia
circa 1940
Robert Miller, David's son said:
My brother and I remember watching television in the early 1940s when broadcasting was limited to a few hours a day. Many times Dad would call home and ask our mother how the test pattern appeared as he was adjusting the transmitting signal at the station, skewing the pattern this way and that way.

Once we were watching an early program and were surprised when he flashed a portrait of my brother and I on the screen for a brief moment. I believe that there were only about seven television receiving sets in Philadelphia at that time, all owned by Philco television research personnel. I also remember riding atop of the television broadcast van as it went up and down the sidelines of during live broadcasts of University of Pennsylvania football games. The television camera was fastened to the top of the van. I also remember making trips with Dad to the Windmoor transmitting tower and watching him climb to the top of the tower.

Later, WPTZ was broadcasting a live quiz show where the host would ask a question and phone television viewers for the answers. One time Dave called our mother and advised her that if someone calls and asks the question " who holds up the earth?', she was to respond 'Charles Atlas." Well, the call came, and she responded as advised, and a short time later a free toaster came in the mail. That may be the very first "rigging" of a television quiz show, but not quite as serious as Charles Van Doren's scandal associated with "The $64,000 Question" television show during the late 1950s.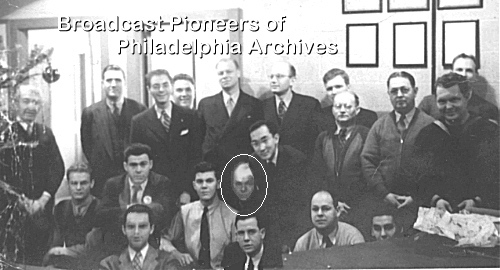 David Miller at WFIL
1948
(in center)
In 1947, after the FCC granted Triangle Publications, owner of The Philadelphia Inquirer, a television permit, Dave was hired to assist in establishing their television station in the Widener building (1339 Chestnut Street in Center City). He worked with Louis E. Littlejohn and Kenneth W. Stowman at WFIL, and in the record time of 62 days, produced a successful test pattern after the transmitter and antenna were installed, and soon they were transmitting commercially.
It was September of 1947 that WFIL went on the air. At WFIL his title was chief engineer. He was the person who actually proposed the channel number as "6," according to one of his sons. Today it is still channel 6. When WFIL decided to move from the top floor of the Widener Building to 46th and Market Streets, constructing the first brand new first in the country made for television building, it was Dave who assisted in the design of the new television transmitting and receiving equipment systems. They moved there during the spring of 1948.
In 1947 Dave was appointed to the select committee to plan and implement television coverage of the Democratic and Republican National Conventions that were to be held in Philadelphia the following year. He was selected as a member of the general committee and the sub-committee on technical arrangements.
Later, in 1948, Dave was hired by the ABC Television Network to go to New York and assist in developing the system necessary to establish a national television network for the company. Channel 6, WFIL in Philadelphia became the first ABC television network station, according to the network.
ABC-TV enabled local New York originated television shows to be broadcast in other parts of the country simultaneously (like CBS and NBC). Networking was necessary because local television broadcast signals may only be received within a 20 or 30 mile radius from where it is broadcasted, depending on how strong the transmitting signal, the height of the transmitting tower and topographical features. Several other factors come into play such as the type of receiving antenna and even the weather conditions.
So by the late 1940s, he was one of the most knowledgeable television pioneers in Philadelphia and perhaps even the nation. If it weren't for those engineers like David J Miller Jr. working behind the cameras, there simply would not be what we know today as television personalities. The likes of David J. Miller Jr. define the words "broadcast pioneer."
As television became popular, Dave saw an opportunity. There was a need for someone to install television antennas on roofs for private residences and commercial establishments. There was also the need for someone to repair the televisions. Some of those television aerials that he installed on the roofs of the many row houses in Philadelphia are still there and if the friction tape that was used to secure the coaxial cable is spaced about every foot apart, then you can feel assured that Dave installed that antenna.
David Miller
1951
It is estimated that prior to 1945 there were only a few televisions in the Philadelphia area, and by 1950 there were about 6,000,000 in the nation, and by 1960 there were about 60,000,000. Certainly television during the late 1940s and early 1950s was a growing industry. Early television receivers used many vacuum tubes and cathode ray tubes, and other parts that wore out fairly quickly as compared to today's advanced technology designs, so someone was needed, quite often, to get these sets operating again.
So David Miller started a television repair business sometime in 1949 and soon had several trucks and many employees out on the road installing television antennas and repairing the sets. He ran the business out of the cellar of his home in Northeast Philadelphia and at one point employed about fifteen men, installing antennas and repairing the televisions. He also built televisions from scratch. The cabinets were finished in leather and the electronics were assembled in the cellar of Dave's home.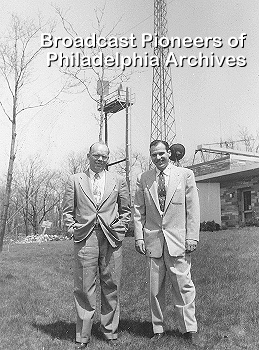 (Left to right) David Miller and unidentified male
WEEU Transmitter and Tower site
Mt. Penn, Reading, Pa.
1953
Dave stayed in that very successful business through 1952 in Northeast Philadelphia, but really desired to get back into television broadcasting. It was in his blood. After being offered the job as chief engineer at WEEU in Reading Pennsylvania, he gave up the television repair business. It was Hawley Queer who owned WEEU radio, and he was granted a license to establish a UHF television station in the region. Dave supervised the design of the General Electric transmitting system. He oversaw the installation to successful completion.
It was Dave who, during the very first live broadcast from WEEU (UHF channel 33), gave a guided tour through the new facility. WEEU was one of the very first UHF stations in the United States. Dave had to leave the station in the Fall of 1954 because of health reasons, but something good happened while he was at WEEU. He met Bill "Wee Willie" Webber. It was Dave who introduced and recommended his good friend Bill Webber for a job at WFIL after leaving WEEU.
Dave's failing health prohibited him from holding a full-time job after 1954. He did, however, on a part-time basis start a one-man television repair business in Churchville, PA, where he had been living since 1952, but even this was more than Dave could handle physically. A few years later, in 1958, he died at the age of 45.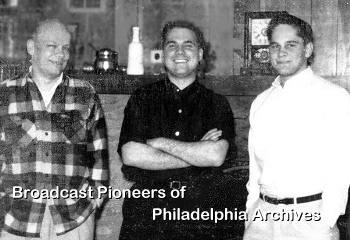 (Left to right) David Miller with sons David and Robert
David's son Robert said:
Dad never had the luxury of obtaining a college degree and he was advised that his career was therefore hindered somewhat. Top management positions were never offered. He vowed that his sons would not be hindered for that reason. Therefore, there was never a question regarding whether or not my brother and I would go to college. We were going, period. No choice in the matter. No discussion. My brother Dave graduated from the University of Pennsylvania with a degree in physics and later a Masters Degree from the same University, while I graduated from Penn State with a degree in electrical engineering.
Dave's biography would not be complete without mentioning that he was able to play almost any musical instrument, having never took a lesson. He also designed and, with the help of my brother and myself, built his own home.
And those degrees that my brother and I received are, in a way, a large part of the legacy of David J Miller Jr., along with the development of what would soon become worldwide television.
Member Marie Pantarelli worked at WFIL on the 18th floor of the Widener Building. She said that the studio and master control were formerly a dentist's office. The tower for television was, according to Marie, atop the adjacent Lincoln Liberty Building which is today the PNB structure. One of Channel 6's first remotes was the broadcasting of the Mass on Christmas Eve live from the Christ the King Parish, Haddonfield, NJ. She believes that it was the first Christmas Eve Mass ever televised. We know of nothing to disprove this. Well, Marie started in July of 1947 at WFIL, her first-time job. She was the secretary of the television Assistant Chief Engineer, David Miller. Pantarelli said that to get the signal from the church to Center City Philly, a microwave dish was put on top of the grandstand at Garden State Park. The signal went from the church to the track and then to the Widener Building. Today, Marie is a parishioner of that very same church.

From the official archives of the Broadcast Pioneers of Philadelphia
© 2016, Broadcast Pioneers of Philadelphia
All Rights Reserved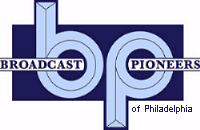 The e-mail address of the Broadcast Pioneers of Philadelphia is pioneers@broadcastpioneers.com