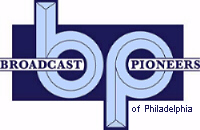 Broadcast Pioneers' Treasurer Pat Delsi
Broadcast Pioneers Luncheon
Bala Golf Club, Philadelphia
Wednesday, December 19, 2007
Former Broadcast Pioneers President Pat Delsi worked for WCAM Radio, Camden in the mid-sixties. He would later become General Manager and eventually purchase the station giving it new call letters, WSSJ.
The brief excerpt we have dates from Friday, November 26, 1965. Unfortunately, it wasn't saved for Pat and the WCAM material but for another purpose and thus only a small amount of material exists. However, we are grateful for what we have.
LISTEN WITH THE WINDOWS MEDIA PLAYER!

From the official archives of the Broadcast Pioneers of Philadelphia
Photo originally donated by Broadcast Pioneers member Jerry Klein
Audio originally donated by Broadcast Pioneers member Gerry Wilkinson
© 2008, Broadcast Pioneers of Philadelphia
All Rights Reserved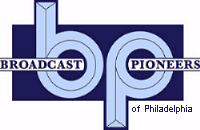 The e-mail address of the Broadcast Pioneers of Philadelphia is pioneers@broadcastpioneers.com