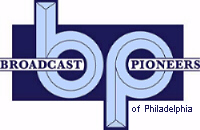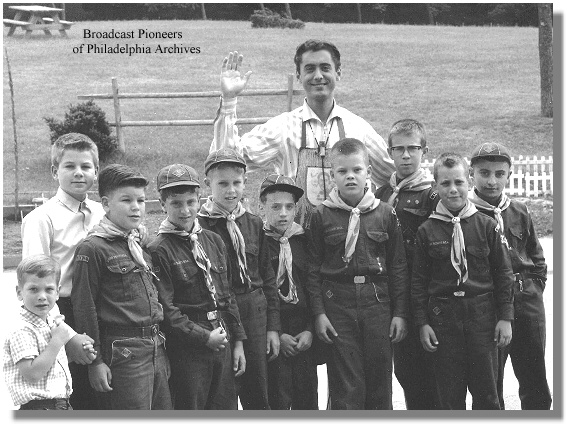 Gene London and guests
WCAU-TV Back Lot
1960
In the early days of WCAU-TV, they had a huge back lot. It was used for many different purposes including the set of "Action in the Afternoon" which was produced by Channel 10 and broadcast live on the CBS Television Network in 1953 and early 1954. Then it was used for Bill Bennett's Farm Show. There were other uses including this picture of TV Legend Gene London with some visitors to the station that day.
Broadcast Pioneers member Dick Kearney was one of the main cameramen on Gene London's shows. The three children on the extreme left are Dick's sons. Kearney's wife, Angie, was the den mother of the cub scout pack. There were at Channel 10 to appear on Gene's TV show. Kearney said that the children sang with London and sat on the floor of the studio and listen to Gene tell a story. Dick also mentioned that one of his sons helped Gene London do a commercial for "Nutter Butter" Peanut Spread.
Later, the land was sold and now has a couple huge buildings used for offices, doctor's facilities, a bank and a MRI outpatient service. Channel 10, now owned by NBC, still owns and operates the original building at Monument and City Avenue in Bala Cynwyd, Pennsylvania.
Gene London e-mailed us saying:
Over the years, hundreds of thousands of school children visited WCAU-TV and became a vital part of my shows.

Remember when I offered a prize to the best screamer at the beginning of the show? well, everyone won candy provided by the shows sponsors and WCAU gave autographed 8 by 10 photographs of gene wearing his apron and jeans taken on the set of Cartoon Corners General Store.

From the official archives of the Broadcast Pioneers of Philadelphia
Photo originally donated by Broadcast Pioneers member Dick Kearney
© 2007, Broadcast Pioneers of Philadelphia
All Rights Reserved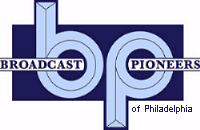 The e-mail address of the Broadcast Pioneers of Philadelphia is pioneers@broadcastpioneers.com