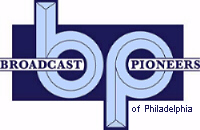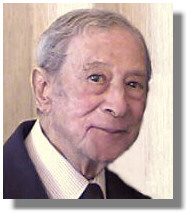 Max E. Solomon
at the Broadcast Pioneers Luncheon
Wednesday, June 18, 2003
Broadcast Pioneers member Max E. Solomon started selling radio time in 1929. In 2001 when this interview was recorded, he had been retired for over 30 years and lived year round in Florida. Solomon later in the year of 2001 moved back to the Philly area to be around friends and his family. Max, 95 at the time of this interview, and his wife and been married for 75 years, that's three-quarters of a century.
During this interview, Max talked about working for the Levy Brothers (Broadcast Pioneers founding members Ike and Leon Levy) who owned WCAU Radio. They also owned an appliance store on Arch Street where they sold radio receivers. Max went to work there in the appliance shop. Later, Max left the employ of the Levys and went to work for WIP Radio. In this 2001 interview, Max mentioned that when he left the WCAU appliance business, he went to work at a radio station they (the Levys) owned, WIP. While it is true that Max left appliances and went to work for WIP selling radio time, it is not true that the Levys owned WIP. WIP, at that time, was owned by the Gimbel Brothers Department Store. The confusion may have come from the fact that today, both WIP Radio and WPHT (which used to be WCAU Radio) have the same owner, CBS. That's the only error we found in this entire 15-minute interview. Max had a remarkable memory for anyone, but he was especially sharp for a person 95 years old. We miss him dearly.
On September 19, 2001, Max was visiting relatives here in Philadelphia. His grandson, Roger Krone is a time salesman (following in Max's footsteps) for Power 99, WUSL Radio. Roger brought Max E. Solomon along to our meeting and afterwards, our Chairman of the Board at that time, Pat Delsi sat down and talked with Max about his life-long career in broadcast sales on our webcast series, PIONEERS IN BROADCASTING.
This video was shot on high-speed VHS tape. However, because of the light from the windows, the picture of Max was dark. In fact, in some places who could only see a shadow. It looked like one of those videos where the speaker was kept in the dark to hide their true identity. In 2001, our video was also running only 5 frames a second.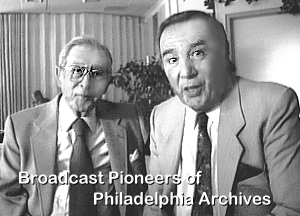 Max E. Solomon
at the Broadcast Pioneers Luncheon
Wednesday, September 19, 2001
During the summer of 2011, we pulled the original tape from our video archive and re-encoded the interview. It now runs at 30 frames a second (TV standard) and we were able to lighten the video. While it is nowhere near perfect, it is much better than our previous version.
In the summer of 2012, we added the same interview in the Windows Media Format. In our opinion, the Real Video version is clearer and more watchable.
Watch Max E. Solomon in Real Video!
Watch Max E. Solomon in Windows Media!

From the official archives of the Broadcast Pioneers of Philadelphia
© 2001, 2011, 2012, 2013, Broadcast Pioneers of Philadelphia
All Rights Reserved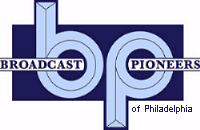 The e-mail address of the Broadcast Pioneers of Philadelphia is pioneers@broadcastpioneers.com