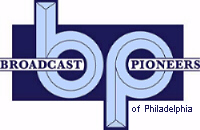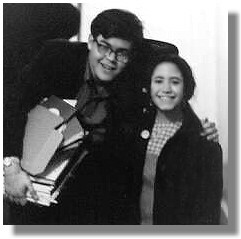 19 year-old Ed Sciaky and 16 year-old Janis Ian
in the basement hallway of WRTI-FM
Saturday, May 13, 1967
On Saturday, May 13, 1967, Janis Ian traveled from her home in New York City to Philadelphia to appear on a college radio station. At that time, the broadcast outlet was completely student run. This visit was just after the release of Janis' single, Society's Child" on the Forecast label, part of Verve. She appeared on a Saturday evening four hour broadcast (8 pm to 12 midnight) called "Broadside." Actually, that night the station signed off a little later, because the program ran long.

The program was originally hosted by Barry Berg and was mainly folk music. However, after Berg's departure, the show had a new host, Broadcast Pioneers member Ed Sciaky and it took a different direction.

The scope of the music still included folk music but now included progressive and underground rock. It was during this time, Ed Sciaky developed his on-air delivery. WRTI-FM, at that time was a training ground. The studios were located in the basement of Thomas Hall. The building was once the Park Avenue Methodist Episcopal Church. Built in 1886, it was the oldest structure on the Temple campus (predating Baptist Temple by a few years) and was demolished in 1999 to build a new dorm.
Broadcast Pioneers member Ed Sciaky had a knack for picking "up and coming" artists, even while he was in college at Temple University. On his Saturday evening, folk-rock show, Broadside, he was the first in the Delaware Valley to display the talents of a young 16 year-old New York City girl. Her name is Janis Ian. Listen to a clip from the WRTI-FM promo which announced Janis' upcoming appearance.
Listen! It was recorded in early May 1967
Hear part of the WRTI-FM "Broadside" show from Saturday, May 13, 1967 which featured Janis Ian and was broadcast live. During the broadcast, Janis sang, played the guitar and piano and took phone calls. What we have here is a 37-minute compilation of the last couple of hours of the broadcast. If you listen carefully at the end, you'll hear Ed Sciaky talking about the station signing off for 4 months. This was true. At that time, the station was completely student run. When the spring semester was over, the station signed off the air until the fall semester began. The program was engineered by Broadcast Pioneers member Jerry Klein. This 37-minute clip is mastered directly from Ed Sciaky's original tapes.
Listen to Ed Sciaky and Janis Ian

From the official archives of the Broadcast Pioneers of Philadelphia
Photo courtesy of the WRTI-FM Old Gang website
Audio originally donated by Judy Sciaky, Ed's widow
© 2008, Broadcast Pioneers of Philadelphia
All Rights Reserved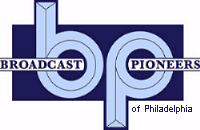 The e-mail address of the Broadcast Pioneers of Philadelphia is pioneers@broadcastpioneers.com