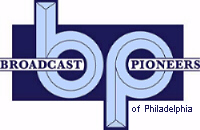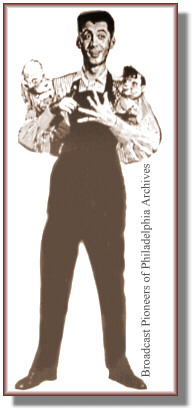 Gene London as "Tinker Tom"
1958
Broadcast Pioneers member Gene London worked on "Tinker's Workshop" as "Tinker Tom." The character was really big and Gene had his very own float in the New York City's Thanksgiving Parade, ran by Macy's Department Store. However, He wanted to stop showing the old silent cartoons from 30 years before, so he told the boss that they would have to go or "he would." They kept the cartoons and New York's lost was Philly's gain.
This show was after his recognized success on "Johnny Jupiter." "Tinker's Workshop" was a local program on WJZ-TV (later with these call letters) WABC-TV), Channel 7 in New York City and was created by Bob Keeshan (Captain Kangaroo). Keeshan was the first Tinker. Then, there was Henry Burbig (a stage and radio comic) as the second Tinker. Gene was Tinker number three. He was replaced by Dom DeLuise.
The show with Keeshan premiered on Monday, November 15, 1954. The set was an Alpine toy shop. Tinker would tell stories, play games, interview people and run old time movies and cartoons (which were cheap for the station to buy). By summer, Keeshan was trying to get out of the deal so he could do "Captain Kangaroo." Keeshan had to give up all rights to his creation in order to get his release. Burbig was really wasn't right for kids programming. H Burbig relied too much on burlesque material. By December of 1957, he was gone and Gene London was in, sponsored by "Good and Plenty" candy..
London changed the character from an elderly gentleman to a big brother type. The show really took off and became a huge success. London was gone when he tried to get Alvin Hollander, the station's program director, to remove the cheap, old cartoons. Gene was replaced by Dom DeLuise who played the character for less than six months when the show was cancelled.

From the official archives of the Broadcast Pioneers of Philadelphia
Photo originally donated by Broadcast Pioneers member Gene London
Researched and compiled by Broadcast Pioneers historian Gerry Wilkinson
© 2007, Broadcast Pioneers of Philadelphia
All Rights Reserved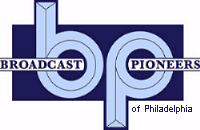 The e-mail address of the Broadcast Pioneers of Philadelphia is pioneers@broadcastpioneers.com