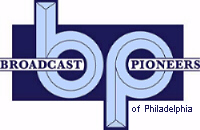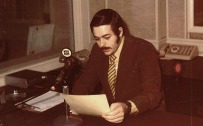 Broadcast Pioneers member Jerry Klein
WCAU Radio News Studio
1971
The following traffic clips are from an October 15, 1970 aircheck of WCAU-AM's Morning NewsBeat program, which was all news from 6 to 9 a.m. Rick Kirkpatrick, now Press Secretary for Penn Dot, (air name "Pat Kirk") did the traffic reports. Here are three of his reports with Bill Hart providing the wrap around.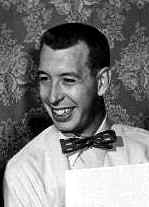 Bill Hart
WCAU-TV
circa 1952
It was Monday morning, August 2, 1971 when this brief featuring NewsBeat's anchor Bill Hart aired. Hart was inducted into our Hall of Fame in 2006.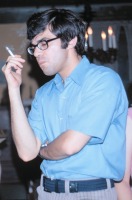 Rich Mayk
WCAU Staff Party
circa 1971
Rich Mayk was a reporter at WCAU. Here's a 1972 story on an injunction against the Philadelphia teachers' union. Intro by WCAU anchor Wynn Moore.
We're not sure of the date of the following clip, but it's probably from 1970 or 1971. It's a portion of Dominic Quinn's talk program on WCAU. He was interviewing WRTI staffer Marc Franz, who had just announced his candidacy for Temple Homecoming Queen. Of course, this was in the days when a man could do such a thing and not automatically be thought of as gay. The excerpt is seven and a half minutes long. Frantz won and a year later, a dog (the canine type) was elected.

From the official archives of the Broadcast Pioneers of Philadelphia
Color photos originally donated by Broadcast Pioneers member Jerry Klein
Hart photo originally donated by Broadcast Pioneers member Charlie Higgins
Hart audio originally donated by Broadcast Pioneers member Gerry Wilkinson
All other audio originally donated by Broadcast Pioneers member Jerry Klein
© 2007, Broadcast Pioneers of Philadelphia
All Rights Reserved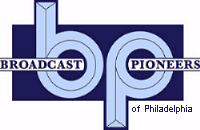 The e-mail address of the Broadcast Pioneers of Philadelphia is pioneers@broadcastpioneers.com