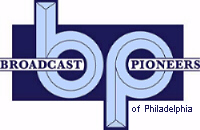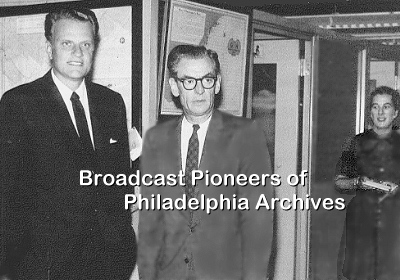 (left to right) Rev. Billy Graham, Charles Shaw and Ronnie Snowden
WCAU Newsroom
WCAU Building
Corner of City Avenue and Monument Road
Bala Cynwyd, PA (station is licensed to Philadelphia)
circa 1961
Because of his annual Billy Graham Crusades, Rev. Graham has preached the gospel in person to more people than anyone in the history of Christianity. He has appeared 55 times on the Gallup list of the most admired people on the planet. That's more than anyone else. Graham had Dr. Martin Luther King join him at his 1957 New York Crusade infuriating segregationists. When Dr. King was arrested in demonstrations, it was Graham who bailed him out.
Rev. Graham was an often visitor to both WCAU Radio and WCAU-TV. He appeared many times on Ed Harvey's Talk of Philadelphia radio broadcasts on WCAU Radio (now WPHT). Ronnie Snowden, seen on the extreme right of this photo, was Ed Harvey's producer for the entire run of his talk program. Harvey served many years on our Board of Directors and was one of our Vice-Presidents for a couple of years. Ed was inducted into our Hall of Fame in 1998.
FYI... Member Donald Barnhouse at one time in his career was a personal research assistant for Billy Graham. Barnhouse, an inductee into our Hall of Fame in 2012, was a long-time news analyst for both WCAU Radio and Television. In 1980, Donald became pastor of the First Presbyterian Church in Bridgeport, Pennsylvania. That's a position he still holds today (April 2016).
Stationed in Europe by CBS, Charles Shaw worked with the legendary Edward R. Murrow during the Second World War broadcasting reports from Europe back to the United States. In October of 1946, Shaw started working for WCAU Radio here in Philadelphia. In 1952, he became the stations' news director.
Preceding Murrow, Shaw was one of the first broadcasters to speak out against McCarthyism. Before Castro came to power in 1959, Shaw secretly traveled to the southern part of the Cuban isle and met with the Castro brothers, Fidel and Raul. A lengthy interview was published in the Evening Bulletin during 1958. In 1961, Shaw won first prize for outstanding commentary from the Pennsylvania Associated Press Broadcasters. This photo is from this era. Charles was inducted into our Hall of Fame in 2012.
Ronnie Snowden was a long-time member of our organization and served several terms on our Board of Directors. At the time of this picture, Ronnie was a Research Associate for WCAU. She was also the producer of Ed Harvey's talk show. Almost two-thirds of a century ago, Ronnie produced the well-known Bulletin Forum broadcasts for WCAU (and carried over the CBS Radio Network) in the fifties, a time when women normally would not hold such positions.

From the official archives of the Broadcast Pioneers of Philadelphia
Photo originally donated by Sandra Evans and her sisters, nieces to Ronnie Snowden
Written and researched by Broadcast Pioneers Historian Gerry Wilkinson
© 2016, Broadcast Pioneers of Philadelphia
All Rights Reserved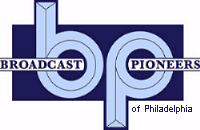 The e-mail address of the Broadcast Pioneers of Philadelphia is pioneers@broadcastpioneers.com