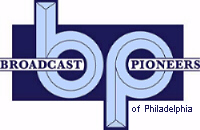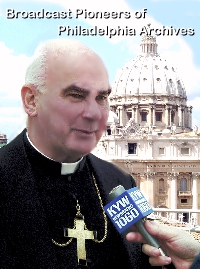 Then Archbishop (now Cardinal) John Foley
being interviewed by KYW Newsradio's Mark Abrams
The Vatican
April 22, 2005 (two days after the election of Pope Benedict XVI)

When the Roman Catholic Church needed to tell the world that the cardinals had chosen a new pope, they relied on the traditional plume of white smoke. For more sophisticated communications efforts over the past 20 years, the Vatican turned to John Foley.
Philadelphia-native Cardinal John Foley, a member of the Broadcast Pioneers of Philadelphia, began his broadcasting career at the age of 14 while he was in high school, writing short plays about the lives of saints; plays that would later be broadcast on a Philly radio station (WJMJ-AM owned by Pat Stanton) where he also worked as an announcer for Sunday morning broadcasts.
John Patrick Foley was born on November 11, 1935, in Fitzgerald-Mercy Hospital, Darby, PA, the only child of John Edward and Regina (Vogt) Foley of Sharon Hill, PA, a suburb of Philadelphia.
He graduated from Holy Spirit School, Sharon Hill; St. Joseph's Preparatory School and St. Joseph's University, Philadelphia, where he was elected president of the student body in 1956 and obtained a bachelor's degree summa cum laude in history in 1957. He entered St. Charles Borromeo Seminary, Overbrook, Philadelphia and received a bachelor's degree in philosophy there in 1958.
He was ordained a priest on May 19, 1962, by Archbishop (later Cardinal) John J. Krol in the Cathedral of SS. Peter and Paul, Philadelphia. His first priestly assignment was as assistant pastor at Sacred Heart Church, Manoa, Havertown, Philadelphia. In 1963, he was named assistant editor of The Catholic Standard and Times and was assigned to graduate study in Rome, where he also served as Rome correspondent of the newspaper from 1963 until 1965 during the second and third sessions of the Second Vatican Council.
He received his licentiate degree in Philosophy in 1964 and his doctorate cum laude in 1965 from the University of St. Thomas Aquinas (Angelicum) with a dissertation on "Natural Law, Natural Right and the Warren Court." He took television documentary production classes at Columbia University from broadcasting great Fred Friendly, and in 1966, he received the degree of Master of Science in Journalism magna cum laude from Columbia University in New York, where he was president of the student body of the Journalism School and representative on the University Council.
In 1966, he was appointed assistant pastor of St. John the Evangelist Church, Philadelphia's center-city parish, and a member of the faculty of Cardinal Dougherty High School, with residence in St. Bernard Church, also in Philadelphia.
In 1967, he was once again named assistant editor of The Catholic Standard and Times and, at the same time, professor of philosophy at St. Charles Borromeo Seminary.
From 1966 until 1974, he was also co-producer and co-host of the Philadelphia Catholic Hour on local radio station WFIL. He was also co-producer on the 20 program television episodes, "The Making of a Priest," for Group W television in the United States, and was active in other radio and television productions.
In 1970, he was named editor of the Catholic Standard and Times, a post he held until 1984. In 1976, he was named an honorary prelate of His Holiness with the title of Monsignor.
In addition he served as a member of the board of governors of the 41st International Eucharistic Congress (1976) and of the regional board of directors of the National Conference of Christians and Jews (1968-1983).
He was a member of the board of directors (1977-1984) and vice president of the Catholic Press Association of the United States and Canada (1981-1984), an organization which he also served as chairman of its liaison committee with NC News Service (now Catholic News Service). He was also vice chairman of the Pennsylvania State Ethics Commission (1979-1984).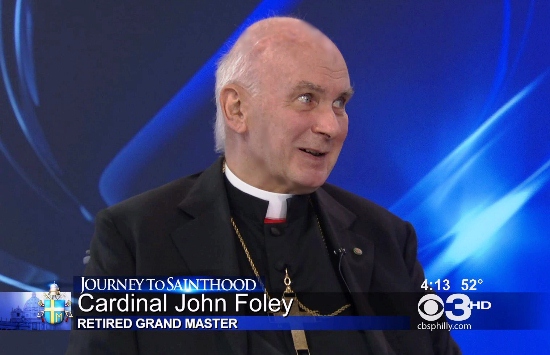 Cardinal John Foley
on KYW-TV live coverage
of the beatification of Pope John Paul II
May 1, 2011
He served as news secretary for the meetings of the National Conference of Catholic Bishops in the United States from 1969 until 1984 and as English-language press liaison for the visit of Pope John Paul II to Ireland and the United States in 1979 and for the International Synod of Bishops held in Rome in 1980.
On April 9, 1984, he was named by Pope John Paul II as president of the Pontifical Commission (now Pontifical Council) for Social Communications at the Vatican, with the title of Titular Archbishop of Neapolis in Proconsulari. It's the office responsible for all the Vatican's print and electronic communications and ministries. He held that post for more than 20 years, and was responsible for the historic NBC Today Show week-long broadcast from the Vatican. He also served as a special commentator for the NBC broadcasts of Christmas Midnight Mass from the Vatican for a quarter of a century.
He was ordained an Archbishop by Cardinal Krol in the Cathedral Basilica of SS. Peter and Paul in Philadelphia on May 8 1984; he is the only person to be ordained both to the priesthood and the episcopate by Cardinal Krol. He began his work in Rome in June 1984, and was given the additional responsibility of president of the council of administration of the Vatican Television Center from August 1984 until December 1989. His responsibilities also include the Vatican Film Library.
He was also a member of the Pontifical Commission for Latin America from 1984 until 1989 and he was a member of the Pontifical Council for Culture.
On June 27, 2007, Archbishop Foley was named by Pope Benedict XVI, Pro-Grand Master of the Equestrian Order of the Holy Sepulchre in Jerusalem. He was elevated to Cardinal in October of 2007. He resigned his post and retired to Philadelphia in early 2011.
He holds honorary degrees from St. Joseph's University, Philadelphia (1985), the Allentown College of St. Francis de Sales (1990), Catholic University of America, Washington D.C., (1996) and Assumption College, Worcester, MA. (1997), Regis University, Denver, Co. (1998) John Cabot University, Rome, 1998, University of Portland (Oregon), 2007.
He has received the St. Francis de Sales Award of the Catholic Press Association (1984), the Journalism Alumni Award of Columbia University, New York (1985), the Sourin Award of the Catholic Philopatrian Literary Institute of Philadelphia (1990), the President's Medal of Holy Family College, Philadelphia (1996), the Barry Award of the American Catholic Historical Society of Philadelphia (1997), and the Shield of Loyola Award of St. Joseph's University (1997).
He was made Knight Commander with Grand Cross, Order of the Northern Star, Kingdom of Sweden (1991), Knight Commander with Star of the Equestrian Order of the Holy Sepulchre of Jerusalem (1991), and Commander with Grand Cross in the Order of Bernardo O'Higgins of the Republic of Chile (1996), Commander with Grand Cross in the Order of Libertador General San Martin of the Republic of Argentina (2003), Chaplain with Grand Cross, Sovereign Military Order of Malta.
Most recently, Cardinal Foley served as special commentator for a live two-hour broadcast of the Beatification Mass for Pope John Paul II. The program was simulcasts on both CBS-3 and KYW Newsradio on May 1, 2011.
Cardinal Foley was honored by the Broadcast Pioneers as our "Person of the Year" on Friday evening, November 18, 2011. As that time, he was also inducted into our Hall of Fame. The Cardinal was under Doctor's orders not to attend. Accepting on his behalf was Matt Gambino, General Manager of the Catholic Standard and Times, a position the Cardinal previously held.

From the official archives of the Broadcast Pioneers of Philadelphia
Top Photo originally donated by Broadcast Pioneers member Bill Roswell
Bottom photo courtesy of CBS 3, KYW-TV
Bio compiled by Broadcast Pioneers member Bill Roswell
© 2011, Broadcast Pioneers of Philadelphia
All Rights Reserved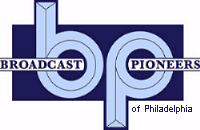 The e-mail address of the Broadcast Pioneers of Philadelphia is pioneers@broadcastpioneers.com