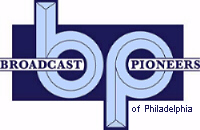 (left to right) Pinky Kravitz with Broadcast Pioneers member Frank Stone
Atlantic City's celebration of Pinky being on the air for 55 years
Friday evening, November 22, 2013
He was often referred to as "Mr. Atlantic City," that was Seymour "Pinky" Kravitz. He was on the radio with "Pinky's Corner" for more than 57 consecutive years at the Jersey Shore. Most at that time, he was on WOND, 1400 in Linwood.
Pinky moved to Atlantic City when he was six years old and had been a resident of the South Jersey area for the rest of his 82 years. Kravitz also wrote a newspaper column for the Press of Atlantic City for his last five years. He also was the host of a television talk program on WMGM-TV, Channel 40. Sometimes, Pinky would even do commentary (Insider Note) on their late night newscast.
Pinky was graduated from Atlantic City High School in 1944 and then joined the Merchant Marine. New York University had given Pinky a sports scholarship for his excellent performance on the Basketball court.
Pinky was a public school teacher for over a quarter of a century. He taught from 1950 to 1978. He taught at the Richmond Avenue School and Central Junior High and at Atlantic City High.
Starting in our industry during the late fifties, Pinky Kravitz hosted record hops on the Million Dollar Pier. He was 88 when he passed away in 2015.

From the official archives of the Broadcast Pioneers of Philadelphia
Photo courtesy of Barbara Farley-Stone
© 2016, Broadcast Pioneers of Philadelphia
All Rights Reserved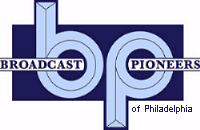 The e-mail address of the Broadcast Pioneers of Philadelphia is pioneers@broadcastpioneers.com