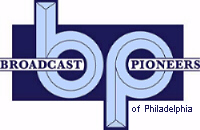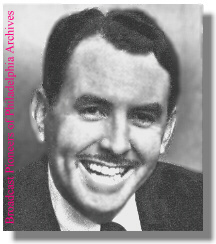 Sherry O'Brien
1952
Sherry O'Brien was a well known nightly broadcaster in the forties and fifties over WDAS Radio in Philadelphia. His real name was Charles Augustus Ignatius Sheridan and was a native Philadelphian. Sherry, of course, came from his real last name and O'Brien was his mother's maiden name. He liked the name so much that he legally had his name changed to Sherry O'Brien.
(Left to right) A's First Baseman Eddie Robinson & Sherry O'Brien
During an "In the Dugout" Broadcast
1953
Born in 1907, he was graduated from Philly's Frankford High School where he won four letters that were in golf, football, basketball and track.
O'Brien had four daughters and one of them, Patricia worked with him doing research. Sherry started broadcasting back in 1929 and over the years had interviewed such 20th century sports greats like: Jack Dempsey, Connie Mack, Bert Bell, Red Grange, Rocky Marciano, Barney Berlinger, Jimmy Foxx, Buster Crabbe and Hank Luisetti.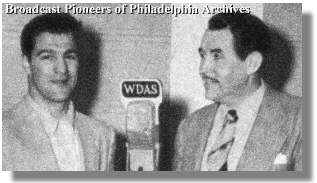 (Left to right) Rocky Marciano & Sherry O'Brien
During a WDAS radio broadcast
1952
At the age of 15, he broke 80 for 18 holes of golf and usually played in the high eighties or low nineties. He worked for the Yellow Jacket Speedway in the Frankford section of Philly. There, he did public relations and consulting work. He was a well known expert on racing including: stock car, midget, regular racing and motorcycles.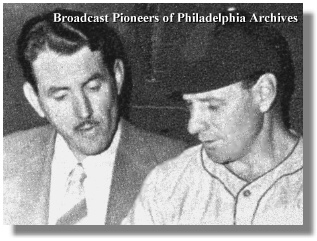 (Left to right) Sherry O'Brien & Leo Durocher, Giants Manager
1951
During his heyday, he did alot of public address announcing for many sporting events including wrestling, professional football, boxing, major league baseball and college hoops. He was also very much in demand as a dinner speaker.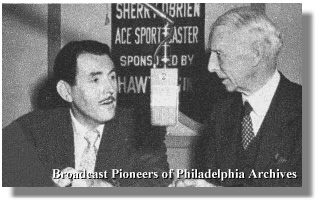 (Left to right) Sherry O'Brien & Connie Mack
During a broadcast
1951
Six feet tall and weighed 185 pounds, Sherry O'Brien was a very good ad-libber with a great memory for interesting sports facts much to the delight of Philadelphia sports fans. He was the host of "In the Dugout," a local sports program that was broadcast between games during Philadelphia A's baseball games. He also had a Monday night broadcast called, "Sports Corner" that would follow the Monday evening boxing matches. He once said that his biggest thrill was sitting on the A's dugout for two seasons.

From the official archives of the Broadcast Pioneers of Philadelphia
Photos originally donated by Al Carfagno
© 2008, Broadcast Pioneers of Philadelphia
All Rights Reserved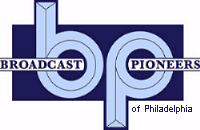 The e-mail address of the Broadcast Pioneers of Philadelphia is pioneers@broadcastpioneers.com