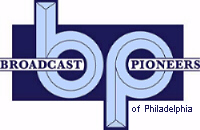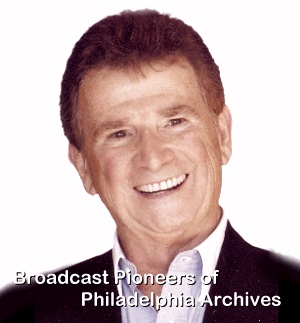 Broadcast Pioneers member Tommy McCarthy was bitten by the bug to be a radio disc jockey after meeting Dick Clark and dancing on American Bandstand as a part of his fourteenth birthday celebration. Music was always a big part of his life even before he saw Elvis Presley on "the Ed Sullivan Show." This was when he began his legendary record collection of 45's, LP's, and CD's.
A native of New Jersey (with the exception of four years in the United States Air Force) Tommy has spent his entire life in the Delaware Valley. McCarthy started his radio career in November of 1975 at various radio stations in the southern New Jersey area including WMVB, Millville; WRDR, Hammonton; WJJZ, Mount Holly; WCAM, Camden and WMID, Atlantic City.
McCarthy also began to perform at various night clubs in the Philadelphia region including Dick Clark's American Bandstand Grill in King of Prussia, where he hosted the New Year's Rockin' Eve and was appointed by Dick Clark for the advisory board to the American Bandstand Regulars committee.
In October 1982, Tommy started broadcasting on WSNI/WPGR in Philadelphia. McCarthy has also worked on WIOQ in Philadelphia and New Jersey 101.5 FM in Trenton joining WOGL in 1990 until his retirement in May 2016. Through the years, Tommy has hosted shows with many stars including Smokey Robinson, The Four Tops, The Drifters, Little Richard, Chuck Berry, The Beach Boys, The Temptations and many more.
A couple of his fondest memories of hosting shows are with three of Philadelphia's favorite sons, "The Golden Boys Of Bandstand," Frankie Avalon, Fabian and Bobby Rydell. Dick Clark personally asked Tommy to host The 40th Anniversary of American Bandstand on the PBS television network with many of the original dancers and film clips as well as the 45th, 50th, and the final 55th Reunion in Philadelphia.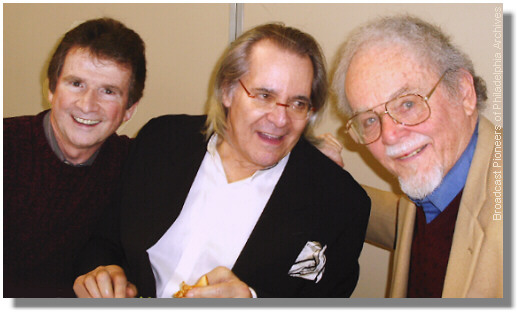 (Left to right) WOGL's Tommy McCarthy with
Broadcast Pioneers members Hy Lit & Bill Wright, Sr.
Broadcast Pioneers Luncheon at the Holiday Inn, City Avenue
Wednesday, February 15, 2005
Since 1993, Tommy McCarthy has been the music director of 98.1 WOGL-FM. In addition to his duties on radio, for twelve years Tommy has been seen hosting music specials on QVC-TV as the music authority for various Artists, music specials and products.
In 1997, Tommy received two nominations for "Achievement in Radio Awards" (A.I.R.) and is a five-time nominee for "The Best Overnight Host" for the Tommy McCarthy Show. Plus another for "Writer And Producer" for the Top 20 Countdown Show both in 1997 and again in 2007. Also McCarthy is spotlighted in the national publication "Philadelphia City Of Music."
In September of 2004, Tommy started another faze in his broadcasting career with a weekly Internet radio and television show on the QBC-TV2 cable network in southern New Jersey. Every Saturday night from 7 pm to 10 pm it's a live radio show on TV, "The Tommy McCarthy Treasure Chest." Still adding more exciting projects to his schedule, in December 2005 through 2008 Tommy was the music director on the nationally syndicated "Ross Brittain Hit Machine," a weekly four-hour radio show with various features and news events covering the 1960's and 1970's.
With a full schedule in semi-retirement Tommy still finds time to enjoy his many hobbies of boating on his 24' Bayliner named the "Li'l Rock N' Roller" and cruisin' with the top down in his red Corvette, also collecting records and CD's. There is hardly a song from the Rock N' Roll era that Tommy doesn't have in his collection. McCarthy said, "I have been blessed with a great career, good health, and a wonderful family. Life has its moments."

From the official archives of the Broadcast Pioneers of Philadelphia
2005 Photo originally donated by Broadcast Pioneers member Gerry Wilkinson
© 2008 & 2016, Broadcast Pioneers of Philadelphia
All Rights Reserved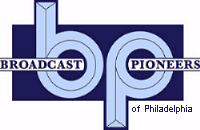 The e-mail address of the Broadcast Pioneers of Philadelphia is pioneers@broadcastpioneers.com