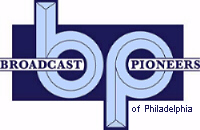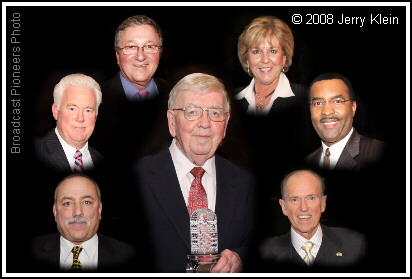 What a bash! A sellout crowd! It was our 17th annual Broadcast Pioneers of Philadelphia banquet on Friday, November 21, 2008 at the beautiful and historic Bala Golf Club, 2200 Belmont Avenue (across the street from the State Police) in the Wynnefield section of Philadelphia. It was only minutes away from Channels 6 & 10 and the radio stations in Bala Cynwyd. Reception was at 6 pm and dinner at 7 pm. At this dinner, we honored our "Person of the Year" and inducted new honorees into our Hall of Fame.
Our "Person of the Year" for 2008 was Bill Campbell, the "Dean" of Philadelphia Sports. Bill's career started in 1940 and is still going strong.
Our inductees into our "Hall of Fame" were:
Cathy Gandolfo, General Assignment Reporter for WPVI-TV, 6ABC
George Michael, former WFIL Boss Jock & NBC-TV's "Sports Machine" host
Bob Pantano, host of WOGL's "Saturday Night Dance Party" for 30 Years
Dave Schratwieser, Investigative Reporter for WTXF-TV, Fox 29
Mike Strug, news reporter for WCAU-TV, NBC10
Ukee Washington, News Anchor for KYW-TV, CBS3
We also inducted posthumously into of "Hall of Fame" these great broadcasters:
Doug Arthur, a big band and pop music DJ from WIBG before the rock era
Susan Drake, former Channel 6 television director for decades
Howard Jones, farm reporter, interviewer and TV's "Happy the Clown"
Bill Kuster, former Channel 3 and Channel 8 (Lancaster) weathercaster
Dr. Don Rose, Former WFIL, Famous 56 Boss Jock
Tom Snyder, once a Channel 3 newscaster who later went national
The event started with Bill Wright, Sr. (of WIBG fame) singing The Star Spangled Banner followed by the ever popular Captain Noah, aka W. Carter Merbreier who did the invocation. Plus there was a special guest appearance by funny guy Joe Conklin. Bill Campbell introductions were by "The Voice of the Phillies, Harry Kalas and the voice of the Eagles, Merrill Reese. Our MC's for the evening were our very own "dynamic duo," Pat Delsi and Bill "Wee Willie" Webber.
COMPLETE AUDIO

From the official archives of the Broadcast Pioneers of Philadelphia
Photo originally donated by Broadcast Pioneers member Jerry Klein
© 2008, Broadcast Pioneers of Philadelphia
All Rights Reserved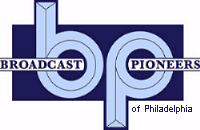 The e-mail address of the Broadcast Pioneers of Philadelphia is pioneers@broadcastpioneers.com