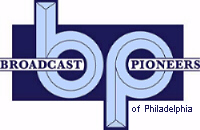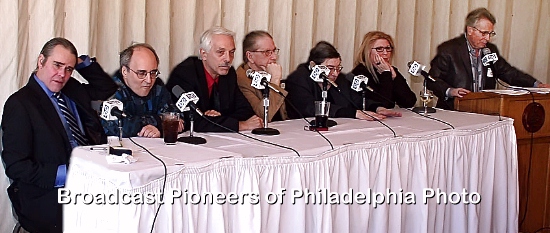 (Left to right) Bill Vitka, Michael Tearson, T. Morgan, Rod Carson
Kal Rudman, Annie Haslam and moderator Dean Tyler
(All seven are members of the Broadcast Pioneers of Philadelphia)
Wednesday, February 16, 2011
Album Oriented Radio, or as it's known in the trade as AOR, that's what we talked about at our February 16th luncheon. It started on FM and basically helped the FM band come into its own. Our moderator for the day was Broadcast Pioneers member Dean Tyler.
In alphabetical order, our panel was:
Rod Carson, former WDAS-FM jock on "Hyski's Underground"
Annie Haslam, solo artist & lead singer of the rock group "Renaissance"
T. Morgan, who started AOR in Philadelphia in 1967 on WIFI-FM
Kal Rudman, founder and publisher of "Friday Morning Quarterback"
Michael Tearson, former WMMR Music Director and jock
Bill Vitka, WMMR's first news director, now with Fox News Radio
In addition, live on the telephone we had Broadcast Pioneers member Allan Hotlen who hired Dave Herman to do the Marconi Experiment on WMMR in 1968.
Plus, for Valentine's Day (which is two days before the luncheon), we had Whitman's Chocolates for you. Plus, Bill Wright, Sr. and Bucky Clark had a musical tribute for everyone to enjoy.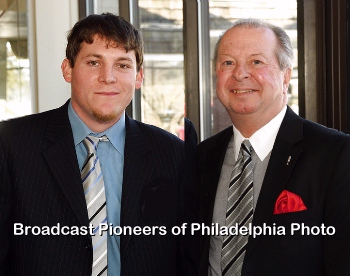 (Left to right) College Student Tim Deaner and Vice-President Frank Stone
Wednesday, February 16, 2011
As part of our college student mentoring program, we brought 14 area communications college students to our luncheon as our guests. This gives them an opportunity to network with the movers and shakers in our industry.

Everyone who's anyone was there! It all happened at the beautiful Bala Golf Club, 2200 Belmont Avenue in Philadelphia! Just minutes away from Channels 6, 10 and 17, plus the radio stations in Bala Cynwyd. Meet and greet (networking) started at noon and lunch was served at 12:30 pm.

We hope to have complete video of the event on this website within the next day or two, so keep checking back.

COMPLETE AUDIO!

Listen with Real Audio!
Listen with Windows Media!

COMPLETE VIDEO!

From the official archives of the Broadcast Pioneers of Philadelphia
Top Photo originally donated by Broadcast Pioneers member Bob Kravitz
Bottom Photo originally donated by Broadcast Pioneers member Jerry Klein
Audio orginally donated by Broadcast Pioneers members Dave Michaels & Bill Gellhaus
Video courtesy of MetraMedia Studios and Broadcast Pioneers member Brad Seecof
© 2011, Broadcast Pioneers of Philadelphia
All Rights Reserved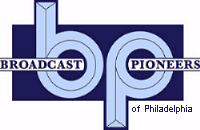 The e-mail address of the Broadcast Pioneers of Philadelphia is pioneers@broadcastpioneers.com