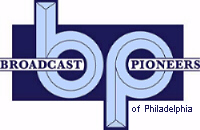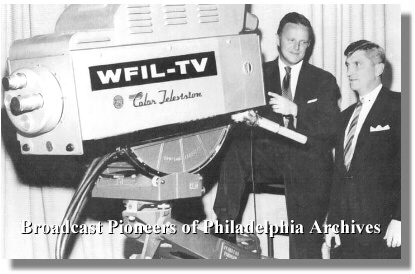 (Left to right) George Koehler and Henry Rhea
RCA Factory in Camden, NJ
circa 1956
For a half century now, there has been a debate over who first telecast color in the Delaware Valley. There's no easy answer. The picture above shows Broadcast Pioneers member George Koehler (who was Station Manager of WFIL-TV at that time) with the station's Chief Engineer Henry Rhea. We believe the photo dates from early summer in 1956.
In January of 1956, NBC-TV, who took over Channel 3, changed the call letters from WPTZ to WRCV-TV. In the late spring, they started advertising that local programming would be in color starting in the fall. Network programming was already in color and the only network broadcasting color at that time. That network program was broadcast in color here in Philadelphia over Channel 3. Thus, we award the "first network color telecast" carried in Philadelphia to Channel 3.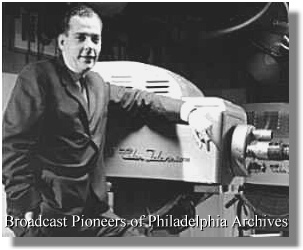 Bill Webber
WFIL-TV Studios, 46th and Market Streets, Philadelphia
circa 1956
General Manager of WFIL-TV, Channel 6 was Roger Clipp. Broadcast Pioneers member Bill "Wee Willie" Webber tells us that Clipp never liked to be beaten. So, as the story goes, Clipp, during the early summer of 1956, asked RCA to install a color camera (maybe two) at Channel 6 for a half month test. During that time, the station used the color equipment and broadcast local shows in color. After the two week trial, the equipment was packed up and returned to RCA saying that the Philadelphia market just wasn't ready yet for color. We now believe this part of the story to be "Urban Legend." We now believe that WFIL-TV kept the equipment. Thus, we award "the first regularly scheduled local program to be broadcast in color" to Channel 6. This beat out Channel 3 by a couple of months. But that's not the end of the story.
Norman Gagnon, who sent us the top photo e-mailed:
The WFIL picture must be from a publicity shot at the RCA Factory. I've seen others with the same style of station ID. (We agree. If the call letters were on the camera or camera delivered to WFIL-TV, they would have been visible in the Webber photo.)
We have now found additional information that sort of bears out what Bill Webber said. On Monday, July 23, 1956, WFIL-TV, just out of the blue without any fanfare started to broadcast in color. The first show was "Bandstand" which was telecast from 2:30 to 5 pm at that time. It became the first colorcast on a regular basis. The station said in September of 1956 that they would broadcast at least one local program in color, but the show may change from week to week. A national magazine article reported during this era that in December of 1954, Channel 6 installed a color film chain and slide facilities along with color transmitting equipment but had no cameras until the summer of 1956.
We were able to confirm that on Friday, October 30, 1953, Philadelphia saw its first color pictures via closed circuit (not a broadcast). It was on WPTZ, Channel 3 in Philadelphia. WPTZ clients, both advertisers and agencies, were on hand as the station did a color presentation of slides and film of local products. The video originated from the Philco Research Labs at c and Tioga, four miles away from their downtown studios. Audio was read from the station's center city control room by George Skinner. There were 3 of the approx. 100 color receivers in Philly at the demonstration with black & white monitors side by side for comparison. This was NOT a broadcast.
On Friday, December 18, 1953 at about 11:15 am, the FCC issued to WPTZ, Channel 3, its official color experimental license which authorized the transmission of color video on the station. Three hours later, color television hit the airwaves in Philadelphia with a color commercial made up of slides. George Skinner hosts several programs on Channel 3. One aired between 2 pm and 2:30 called "Skinner's Spotlight." It was during this time that the first color telecast under an official FCC license took place. It was the first in the nation and it was on Channel 3 at about 2:20 pm. Thus, we award the city and the nation's first color telecast under a FCC license to Channel 3.
There have been repeated reports on the Internet that a color Felso soap commercial (live) was aired during Skinner's program. We have never been able to confirm this. We believe that it may be "urban legend."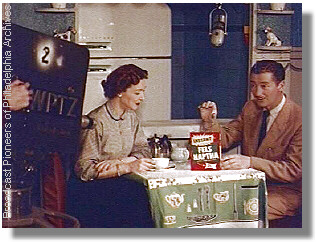 (Left to right) Jane King Hall and Alan Scott
WPTZ Studios, 1619 Walnut Street, Philadelphia
1955
It may be also confused with some 1955 color film which Channel 3 shot (but didn't telecast). During the film, we see Alan Scott with Broadcast Pioneers member Jane King Hall doing a rehearsal. Scott not only hosted "Let Scott Do It" with Mr. Rivets (Broadcast Pioneers member Joe Earley) but "Scott's Spotlight." Both programs were originally done by George Skinner under the titles of "Let Skinner Do It" and "Skinner's Spotlight."
Channel 3, WRCV-TV, now owned by NBC started 15 hours of colorcasting on September 23, 1956. They had two color cameras and a color film chain. The station already had color transmitting equipment. On September 23rd, the following programs were broadcast in color and continued after that date:
Let Scott Do It (Monday thru Friday from 9 am to 10 am
Newsroom with Pat Landon, Monday thru Friday from 2:15 pm to 2:20 pm
Pete Boyle's Fun House, Monday thru Friday from 6 pm to 6:25 pm
News, Weather and Sports, Monday thru Friday 11 pm to 11:20 pm
The Saturday Evening Midnight Jazz Festival on Saturday evenings from midnight to 12:30 am
Color TV Digest, Sundays from 12 noon to 12:15 pm, a general variety show
A little additional info:
The News, Weather and Sports were actually three different programs. Broadcast Pioneers member Taylor Grant did the news from 11 pm to 11:10. The Herb Carneal did sports from 11:10 to 11:15 pm and Judy Lee finished the block with five-minutes of weather.

The Midnight Jazz Festival didn't start until October 6th and it featured the music of Henry Levine's Dixieland band each week. TV Digest started in June of 1956 in black & white and was renamed Color TV Digest when the show went color. It was hosted by Norm Brooks.

From the official archives of the Broadcast Pioneers of Philadelphia
Top Photo originally donated by Norman Gagnon and the GGN Information Systems website
Center Photo originally donated by Broadcast Pioneers member Bill Webber
Bottom photo taken from color film in the KYW-TV, CBS 3 Archives
© 2009 & 2011, Broadcast Pioneers of Philadelphia
All Rights Reserved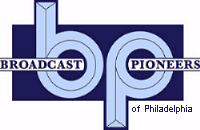 The e-mail address of the Broadcast Pioneers of Philadelphia is pioneers@broadcastpioneers.com