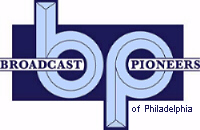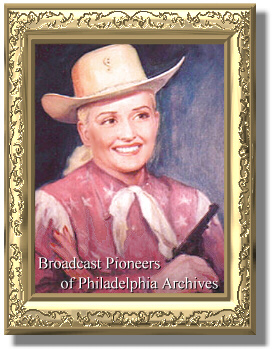 Oil Portrait of Sally Starr
circa 1959
By 1971, Broadcast Pioneers member Sally Starr was a living legend. However, her popular afternoon kids program was moved to the 8:30 am to 9 am time slot, immediately following Captain Noah.
On Monday, July 26, 1971, WPVI-TV joined the ABC Television Network for an Apollo 15 update. A few minutes later, the network returned programming to the local stations. While Sally's morning show was mainly live, the particular program sounds like it could have been recorded. Well, when Channel 6 went to their regularly scheduled programming, they joined a Popeye cartoon already in progress, that is, in the middle. While this was a television program, we do have audio (only) of part of the program.
We have put together that audio which is in two segments. There's a second of dead air between each segment and once you have the audio playing, it will go automatically to the next segment. While we wish that we had video, this is still an amazing find especially since it was professionally recorded on professional equipment from an off-air FM tuner which was tuned to the audio of Channel 6. Therefore, you will find that the audio is quite good.
In the short second segment, the stage hands would put Sally's mail in a saddle bag and then throw it onto the set. The idea was that she was getting mail delivery via pony express. The second segment ends suddenly because that's where our tape runs out.
Listen in the Windows Media Format!

From the official archives of the Broadcast Pioneers of Philadelphia
Photo originally donated by Broadcast Pioneers member Sally Starr
Audio originally donated by Broadcast Pioneers Historian Gerry Wilkinson
© 2009, Broadcast Pioneers of Philadelphia
All Rights Reserved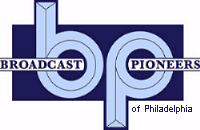 The e-mail address of the Broadcast Pioneers of Philadelphia is pioneers@broadcastpioneers.com