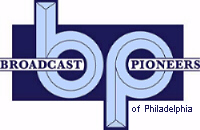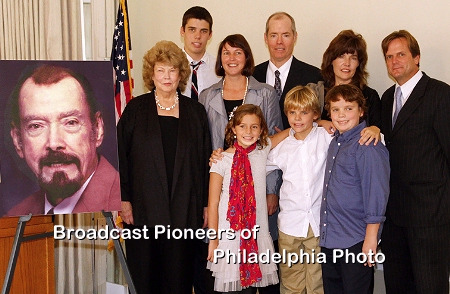 The Entire Webber Family
Broadcast Pioneers Luncheon
Bala Golf Club, Philadelphia
Wednesday, October 20, 2010
We lost him too soon. Bill "Wee Willie" Webber passed away in the spring of 2010. At the time of his death, he was our Chairman of the Board and the person who served in that position longer than any previous individual.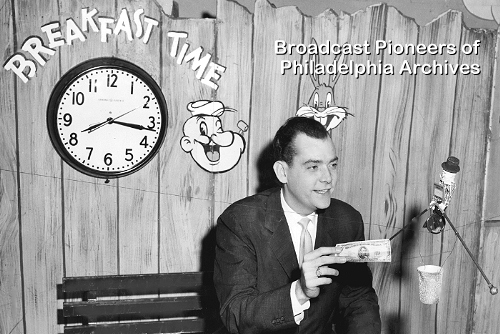 Bill Webber on "Breakfast Time"
WFIL-TV
1957
For almost two-thirds of a century, this giant of a man worked the Philadelphia broadcast scene on both television and radio. In fact, he was still on the air on both WHAT Radio, 1340 on the AM dial and WVLT-FM, Cruisin' 92.1 in Vineland earlier this year. We really miss him and this was a celebration of his life and a time to remember all the good moments we shared.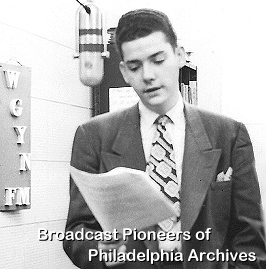 Bill Webber at his first broadcast job
WGYN-FM (now WSKQ-FM) in New York City
1948
Bill started at WGYN-FM in the mailroom and was quickly spotted as "on air talent." From there, as they say, the rest is history. If there's anyone out there not familiar with Bill's career, you can learn more about him by reading his bio from our website.
It was another huge crowd at our Wednesday, October 20, 2010 luncheon. It all took place at the beautiful Bala Golf Club, 2200 Belmont Avenue in Philadelphia! Just minutes away from Channels 6, 10 and 17 plus the radio stations in Bala Cynwyd. Meet and greet was at noon with lunch served at 12:30 pm.
Our MC for this event was Pat Delsi, a former president and a former chairman of the board of Broadcast Pioneers and he currently serves as our treasurer.
Speaking that afternoon was:
Ralph Caliri, former General Manager of Channel 17, WPHL-TV
Tema Steele, financial advisor and personal friend of Bill Webber
Len Stevens, former co-owner of WPHL where Bill did his cartoon show
Allen Stone, former roommate of Bill Webber who they were both bachelors
Dean Tyler, friend and former PD of WIP Radio and WPEN Radio
Les Waas, long-time friend and broadcast associate of Bill Webber
Bill Webber, Jr., Bill's son who has followed his dad in broadcasting
Bill Webber and his sidekick Ralph
WPHL-TV, Channel 17
1966
It was the official unofficial memorial for this long time member of our industry, "Wee Willie." The entire Webber family was there.
COMPLETE AUDIO!
Listen with Real Audio!
Listen with Windows Media!
In our opinion, the Real Audio version sounds better. It was cut at a higher rate so it would be better quality than the Windows Media version!
COMPLETE VIDEO!
PHOTOS FROM THE LUNCHEON!
Photos by Broadcast Pioneers President Jerry Klein
59 Pictures from that afternoon!
These copyrighted pictures are protected under US Copyright.
Any usage without the express, written permission of
the copyright holder is strictly prohibited!
Usage does NOT fall under "Fair Use" of copyright laws!

From the official archives of the Broadcast Pioneers of Philadelphia
3 Vintage Webber Photos originally donated by the Webber family
Top photo originally donated by Broadcast Pioneers member Jerry Klein
© 2010, Broadcast Pioneers of Philadelphia
All Rights Reserved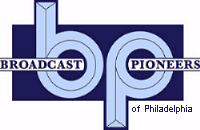 The e-mail address of the Broadcast Pioneers of Philadelphia is pioneers@broadcastpioneers.com