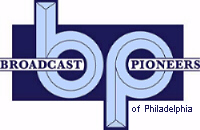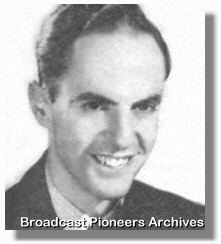 Bob Knox
WIBG Radio
circa 1945
"The Grey Ghost," Box Knox was a mainstay at WIBG for decades. He did many things at the station, disc jockey work and news among other things.
For awhile, Bob was the morning newsman working with Bill Wright, Sr., "The Rebel." We have a complete Bob Knox newscast from Tuesday, September 6, 1960. It's 8:55 am. The news open, by the way, was done by Johnny Grubbs who later went into management with Storer Broadcasting, which owned WIBG at the time.
In November of 2013, we heard from Bob Knox's son, Robert. He wrote:
My Dad was Bob Knox who was a DJ at WIBG during the 50's and early 60's. My daughters never had the chance to hear him on the air, and how smooth his delivery was. He passed away in 1988.

I remember Hy Lit and his signature.....Hyskiorooneymicvoudyozoot. No idea if the spelling is right.

We used to call that "voice" Dad used his "Radio Voice." He did not sound like that at home. Same voice, but he did not talk that way. Some of the DJs of that time had the same "on air" voice and inflections as they did "off air." It was also very strange to see him that young in the picture and when he had hair. That picture was taken before he and my Mom were married and before any of us were born. I have 2 sisters, Marilyn and Susan. I remember my father taking us to the studio at various times, when it was in Lafayette Hills. I also remember that WIBG had a softball team that included staff and DJs.

My Dad was too old to play but he was there coaching and he would bring me along. I remember that Hy Lit used to talk through the entire game to the crowd, the opposing players, to anyone within ear shot. He was a nice guy, just loved the attention. I also remember that my Dad was the DJ of a dance that was held each week at the Highland Park Elementary school. It was for teenagers and the music was rock and roll and r&b. It was what the kids wanted to hear. At that time, these kinds of dances were big.

We lived near 69th Street in Upper Darby and there was a dance that was held at a roller skating rink on the second floor above the farmer's market. It was called Chez Vous or something like that. Jerry Blavat was the DJ there. We grew up in Upper Darby. My mother's name was Margaret, and she passed away in 1999.

As far as a bio, I know my Dad started with broadcasting sporting events. He was born in 1914 and had 2 brothers, John and Bill. My Dad was the youngest. He was with WIBG from as far back as I can remember. I remember Bill Wright, Tom Donahue, and Joe Niagra as being there when I started to understand what he did. He was a disc jockey when Rock and Roll started and he played it on his show. He was older than the other DJs at the time and his hair was gray so that is why he became known as the Gray Ghost. Early in his career he was known as Bobcat Bob Knox. This would have been in the 40's when big band music was the music of the day.

I don't have any pictures. I will check with my sisters. It is difficult to explain to my kids what the radio meant to the young generation of the late 50's and early 60's. WIBG was number one for quite awhile, and the DJs were all personalities on the air. Much different than today.

From the official archives of the Broadcast Pioneers of Philadelphia
Photo originally donated by Broadcast Pioneers member Allen Stone
Audio originally donated by Broadcast Pioneers member Anthony DiFlorio
© 2009 & 2013, Broadcast Pioneers of Philadelphia
All Rights Reserved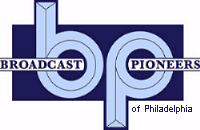 The e-mail address of the Broadcast Pioneers of Philadelphia is pioneers@broadcastpioneers.com