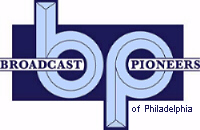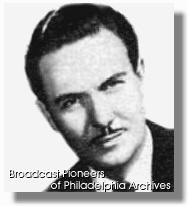 Hal Woodard
WFIL Publicity Photo
circa 1964
On Monday, November 30, 1964, WFIL Radio aired an episode of a series called "Anniversary in Sound." This particular one was called, "Winston Churchill, Citizen of the World." It was sponsored by Central Penn Bank. The narrator was Hal Woodard. It was written by Joe Meyers and produced and directed by Broadcast Pioneers member Jerry Donohue.
Some sources have erroneously identified this program as being an ABC Radio production. This is simply not true. The confusion may come from the 5-minute ABC Radio newscast that followed the program. "Anniversary in Sound" was produced by WFIL Radio. Sometimes the series was carried on other Triangle stations and occasionally, it was syndicated to stations across the country.
Former Broadcast Pioneers President Lew Klein who was Executive Director for "American Bandstand" when it originated out of WFIL-TV said that he believes that Joe Meyers was not on staff, but a writer who was free-lance. He also believes that this particular episode was syndicated. He confirms that it was not an ABC Radio program.
On this Winston Churchill program, we present an abridged version in both the Real Audio and Windows Media formats. It was nine minutes in length. While the version we have in our archive is longer (21 minutes and 12 seconds long), we do not have a complete unabridged version, complete with the opening and closing. Should someone have this, we would appreciate having a copy donated to our archives.

From the official archives of the Broadcast Pioneers of Philadelphia
Photo originally donated by Broadcast Pioneers member Bill Webber
Audio originally donated by Broadcast Pioneers member Michael Muderick
© 2009, Broadcast Pioneers of Philadelphia
All Rights Reserved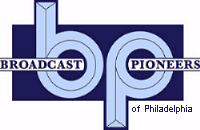 The e-mail address of the Broadcast Pioneers of Philadelphia is pioneers@broadcastpioneers.com