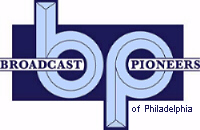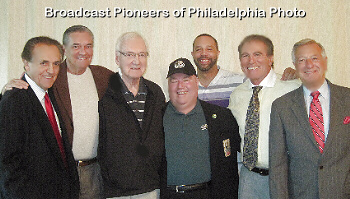 (left to right) Joe Pellegrino, Tom Lamaine, Al Meltzer
Jim Murray, Bill Vargus, Vince Papale and Bill Baldini
Broadcast Pioneers Luncheon
Bala Golf Club, Philadelphia
Wednesday, September 16, 2009
It's September and it was time to get back into the swing of things and participate in new, exciting happenings with the Broadcast Pioneers! We had a very active summer as you saw in the previous newsletters, however September always brings an air of excitement as we kicked off our new season of luncheons, gatherings and our annual banquet.
On Wednesday, September 16th, the Broadcast Pioneers of Philadelphia presented our first luncheon of the new season. We talked about the Philadelphia Eagles, past and present. The Birds are as Philadelphia as Cheese Steaks and Tastykakes. It all took place at the beautiful Bala Golf Club, 2200 Belmont Avenue in Philadelphia! Just minutes away from Channels 6, 10 and 17 and the radio stations in Bala Cynwyd.
Our speakers (all members of the Broadcast Pioneers) were:
Bill Baldini, former NBC 10, WCAU-TV newsman and total Philly Sports Fan
Tom Lamaine, former KYW-TV sports anchor and play-by-by announcer
Al Meltzer, sports director/anchor and play-by-play on Channels 3, 6, 10 & 17
Jim Murray, former General Manager of the Philadelphia Eagles Football Team
Vince Papale, former Eagle, sportscaster & inspiration for the movie, "Invincible"
Bill Vargus, former Sports Anchor at WTXF-TV, Fox 29 here in Philadelphia
Our MC for the event was Joe Pellegrino, former WPVI Sports Director/WCAU-TV Sports Anchor.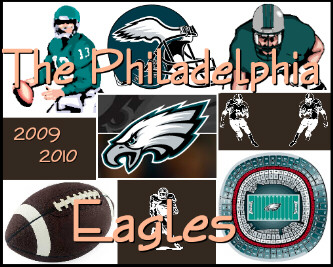 Plus, live on the telephone from the Eagles was Broadcast Pioneers member Merrill Reese, the voice of the Philadelphia Eagles. Shortly before our panel discussion got underway, there was an Eagles briefing with the coaches. Merrill reported back with just what happened at that event including all the details about Donovan McNabb's condition and whether McNabb will be able to play Sunday against New Orleans.
Also, we had former KYW News Anchor Don Lancer (a member of the Broadcast Pioneers) saying a few words about his long-time friend and co-worker Fred Sherman (also a member of the Broadcast Pioneers) who died Saturday morning! It was a great turn out with over 80 people attending.
COMPLETE AUDIO!
----------
Don Lancer's Tribute to Fred Sherman!
Listen in Real Audio!
Listen in Windows Media!
----------
Merrill Reese Live with the Philadelphia Eagles
Listen with Real Audio!
Listen in Windows Media!
----------
The Panel Discussion
Listen to Part One in Windows Media!
Listen to Part Two in Windows Media!
The audio of the panel discussion is in two parts. When you click on the Real Audio version, it will automatically go from part one to part two at the proper time. You need to do nothing. Those listening with the Windows Media Player will have to start each part manually.

From the official archives of the Broadcast Pioneers of Philadelphia
Photo originally donated by Michael Muderick
© 2009, Broadcast Pioneers of Philadelphia
All Rights Reserved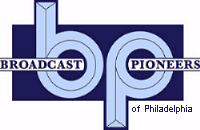 The e-mail address of the Broadcast Pioneers of Philadelphia is pioneers@broadcastpioneers.com