Broadcast Pioneers member John Zacherle passed away at age 98 on Thursday, October 27th, 2016. We called him a month or two before his passing and his caretaker said that he was too ill to speak to us.
John was often called "The Cool Ghoul" and had a hit record, "Dinner with Drac" on the Cameo label based here in Philadelphia. The original flip side was called "Igor" (John's off-screen side kick). However, Dick Clark thought it was too ghoulish. Cameo quickly cut another version to be played on "American Bandstand" and also quickly did a second printing calling the two versions, "part one" and "part two."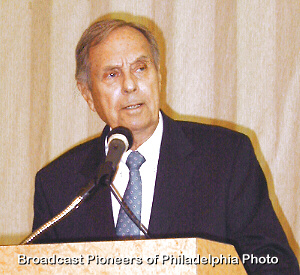 Broadcast Pioneers member John Zacherle
Broadcast Pioneers of Philadelphia Luncheon
Bala Golf Club, Philadelphia
Wednesday, October 18, 2006
MORE BIO INFO:
John Zacherle was born on September 27, 1918 right here in Philadelphia. One strange thing was that he was never allowed to watch horror movies. He lived in Germantown (a section of Philadelphia) and was graduated from Germantown High. After high school, he decided to get a Bachelor's degree in English literature. After receiving his degree from the University of Pennsylvania (in West Philadelphia), he joined the army to help out with World War II. He ended up a major and saw action in North Africa and Europe.
After the service, Zacherle joined Stagecrafters, a Chestnut Hill repertory company. Eventually, John Zacherle found his way to the Bala Cynwyd studios of WCAU-TV, which was owned by the Evening Bulletin, a local Philadelphia daily newspaper. Charlie Vanda, President of WCAU (both radio & television) had gone to New York City to pitch CBS executives on airing some of the local WCAU programs. They had aired "Willie the Worm" and "The Big Top," both originating live from WCAU-TV, Channel 10. They didn't like any of Charlie's ideas and on the spot, he created a western, which eventually became "Action in the Afternoon."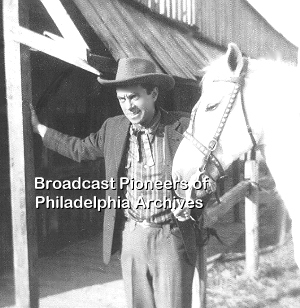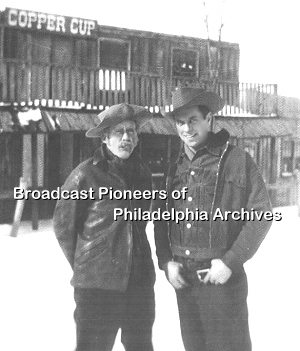 Broadcast Pioneers member John Zacherle
Action in the Afternoon
WCAU-TV, Philadelphia
1953
It was sort of a western soap opera with continuing characters. John Zacherle had a number of parts as an extra and finally worked his way up to co-starring parts. Sometimes he would play two roles on the same day, one with a beard and one without. About half way through the run of the show, the station hired Zacherle to play an undertaker wearing a long black flock coat. When the station employed him to play Roland three years later, they simply brought the coat out again to help create the character Roland (pronounced Row-Land).
Channel 10 purchased old horror movies and decided to have a weirdo host the show. The story goes that he never even tried out for the part, they remembered him from "Action in the Afternoon."
Shock Theater came to the airwaves on Monday, October 7, 1957. Roland lived in a crypt with his wife, "My Dear" (who never appeared on camera until Zacherle refused to do the shows until he got a $10 raise from $90 to $100 a week.) Sometimes, Zacherle would drive a stake through My Dear's heart "just to make her happy." The wooden stake was actually pounded into a container of stones and soil. Gasport was their son and hung in a dark bag attached to the wall. While he never appeared on camera, you would hear him moan, which was anyone on the crew who happened to be close enough to a microphone. Roland had a lab assistant called "Igor."
After the title graphic, you would see Roland entering the set by walking down a round stairway. Because of the insistence of Vanda, the WCAU broadcasts have a reputation of being gorier. Zacherle said that Charlie had told him that if there's a head in that basket, that he wants to see it. It also may have been easier to do since the Channel 10 shows were all shot in Black & White and Hershey's Chocolate Syrup had the appearance of blood.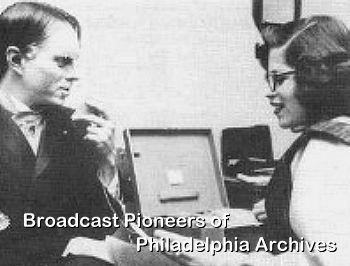 (left to right) John Zacherle and student Jeanne Horvitz
WRTI-FM Studios
Basement of Thomas Hall, Temple University
March 1958
The show aired immediately after the news, which featured WCAU news legend John Facenda. With the news broadcasts in those days being less than a half hour, that meant that Zacherle came on at 11:25 pm on weekdays and 11:20 pm on Saturdays. Initially, the broadcasts were on Mondays and Tuesdays. However, the show started to attract a younger following in addition to the adults and the shows were moved to Friday and Saturday evenings. Broadcast Pioneers CEO Gerry Wilkinson, who just turned 11 years old when Shock Theater went on the air remembers fondly how all the sixth graders loved Roland. It even entered into the schoolyard games. Once, his schoolmate got into trouble for trying to drive a stake (a ruler) into one of the girl's stomach. "He" was Roland and she was "My Dear."
On August 16, 1958, the Saturday Evening Post wrote an article about Zacherle. Less than two weeks later, on August 29th, WCAU-TV's ownership officially transferred from the Evening Bulletin (a local Philadelphia newspaper) to CBS-TV. Less than a month later, Roland and Shock Theater had disappeared from the Channel 10 program schedule. There were 95 broadcasts of Shock Theatre with Roland. The package the station purchased was called "SHOCK" had 52 movies in it. Channel 10 added a few from its library and aired a total of 63 different movies during Zacherle's reign.
In 1968, Zacherle said that it was at WCAU where they started jumping into the movies for a comic effect. He said that they were screening the movies to see where the commercial breaks could go. While the movie was running, the video would be cut to a shot of Roland doing something crazy like hiding behind a tombstone. The audio was not cut and so Roland look like he was part of the movie. Everyone at WCAU loved it and so did the viewing audience. Wilkinson recalls his father watching Roland just for the jump-ins. Everyone loved it.
In February of 1958, as a publicity stint, Channel 10 invited the audience to an open house at the studio. About 800 people were expected, but over 10,000 people showed up. Traffic on City Line Avenue (a major road in the area) was just outside the studio. Traffic was tied up for hours. Windows were shattered and damage was done by some of the station's facilities.
Bernie Lowe, co-owner of Cameo Records, along with Dick Clark and others, saw how his daughter loved Roland and got the idea for a record. It was called "Dinner with Drac." However, Dick Clark (who owned part of the label) thought it was too gory for his American Bandstand show which went on the network just about the same time as Roland first appeared on Philadelphia television. It was originally flipped with "Igor." Cameo quickly took John Zacherle back into the studios and re-cut another version that was tamer. That's the version that was aired on Bandstand. (Clark also made Lloyd Price re-cut "Stagger Lee" in order to get air play.) There was just one problem, everyone outside of Philadelphia wanted the Bandstand version. However, radio station powerhouses like WIBG, the Big 99 in Philadelphia were playing the original version. Lowe came up with a solution. Re-issue "Dinner with Drac" with both versions (one of each side) and eliminate "Igor." The song was a smash, going into the national Top Ten.
A more bizarre thing happened several years later when John did an LP for Cameo called, "Monster Mash." Since Cameo-Parkway had recorded the original hits of Bristol Stomp, the Cha-Cha-Cha, etc., they had the instrumental tracks in their vault. Zacherle made them into the "Pistol Stomp" and the Ha-Ha-Ha. There were twelve songs with one side having horror sound effects between the cuts. However, Broadcast Pioneers member Gerry Wilkinson reports that there were at least two pressings of that album. The second press had mistakenly been made with seven of the twelve cuts pressing with alternate takes. Also the sound effects were on the wrong side of the record from the original. Wilkinson found this out quite by accident. He had a copy in his collection that he purchased when the album was originally issued. Years later, he came upon a used copy of the LP and purchased it. It was just in so-so condition but was priced cheap. He decided to compare the two records and keep the one in the best condition. (He was going to give the other copy to a friend who had been looking for a copy for years). Neither was in mint condition. In fact, both were noisy. So he kept playing one cut over and over to pick the best copy. After about six playings, he realized that something was different. One was Zacherle doing it in his own voice. The other copy had Zacherle doing it sounding like Boris Karloff. To this day, he has never found anyone who even knew about the two versions.
By the way, Dick Clark, supposedly was the one who nicknamed Zacherle, "The Cool Ghoul." The follow-up was "Lunch with Mother Goose" flipped with "82 Tombstones." Shortly after the mob scene at WCAU-TV and the Saturday Evening Post article, Zacherle knew he had a big following. He refused to go on unless he got a 10% raise (from $90 to $100 a week). The station refused and for a couple shows (April 18 and 19th of 1958), he was replaced by an actress playing "My Dear." There was a public outcry, and the next week John was back. However, it left him bitter towards the station. He found out that he was able to get more money from WABC-TV in New York and decided to make the move. Interesting that all this time, John was still living at home. The story goes that he was so devoted to his mother that even after moving to New York, he returned to Philadelphia every week to visit his mom. (She supposedly didn't want to leave Philadelphia).
John got to appear in a motion picture entitled, "Key to Murder.' Several of the "Action in the Afternoon" people were also in it. When John made the move to NYC, the station added a "Y" to his name to make it easier to pronounce. When he moved to WABC-TV (New York) My Dear became Isobel" and Roland became "Zacherley." His real name has no letter Y in it, by the way. In March of 1959, "Shock Theater" (it was used in both markets) was changed to "Zacherley at Large." John Zacherle must have felt very much at home at Channel 7. Lynn Dollar, who did the weather on WPTZ, Channel 3 in Philadelphia in the early to mid-fifties was now doing the weather on WABC-TV, New York. Lynn was seen just before Zacherle's broadcast. In the fall of that year, he moved to WOR-TV, also in New York City. WOR also did something different. They taped the program on two-inch reel to reel videotape. The other, earlier broadcasts were all live. The shows were also shown on WOR's sister station, WKHJ.
Keep in mind that videotape in the early days was very expensive, as much as $500 per reel. With it being that costly, the station used the tapes over and over.
In the early sixties, Zacherle filled in for an ill Dick Clark for his live appearances on the road with Chubby Checker and Bobby Rydell, both also from Philadelphia and both recorded for the Cameo-Parkway group.
In 1963, he hosted cartoons on New York's WPIX-TV. The next year, the station moved Zacherle from the kiddie cartoons to hosting horror movies. The following year, Zacherle started hosting on WNJU-TV, across the river from New York in Newark, a teenage dance show called, "Disc-O-Teen." He hosted the program in costume, did all his bits and even used the kids in the skits. That show ended in the fall of 1967, when he moved to doing morning drive at WNEW-FM. By the summer of 1969, he was doing 10 pm until 2 am. It was progressive rock and it led the way to doing the same format here in Philadelphia, first on WDAS-FM and then on WNEW's sister station, WMMR (newly named from the old WIP-FM). He switched stations to WPLJ-FM. He stayed there for an entire decade. That's forever in this business.
In the early eighties in portrayed a wizard on CBS-TV's Captain Kangaroo. He played it straight and not in his Zacherley/Roland make-up. By the way, Zacherle seemed to use the phrase "men" when talking with one than one male. For example, Gerry Wilkinson remembers that after the 1968 WRTI interview, Zacherle said goodbye to everyone. He said, "okay men." In the October 2002 issue of the fanzine "Zacherley at Large" published by Paul Russak, the author quoted John as saying "Gotta go, men." This seemed to be a real speech pattern.
For Halloween, John returned to Philadelphia and the Academy of Music. He read from Edgar Allen Poe and was backed-up by the famed Philadelphia Orchestra. In 1984, he started his well-known Halloween special broadcast over WCBS-FM. This annual event continued until 1992 when he moved to WXRK.
1985 saw WCAU-TV do a local, one-shot program, "The Return of Roland." The broadcast was done from the same studio using the original set. In 1987, he appeared on a local WCAU-TV show, "Live on City Line," to honor the 30th anniversary of the creation of the character Roland. Also, to promote the airing of a newer and color remake of "Frankenstein" which Channel 10 aired on Saturday evening (Halloween) at 11:35 pm with John Zacherle as Roland and Channel 10's movie critic Dennis Cunningham. The "Live on City Line" show was hosted by Sheela Allen-Stephens and Matt Lauer and aired live daily from 5 pm to 5:30. The next year, 1988, he made a guest appearance on KYW-TV's "Saturday Night Dead hosted by Stella (Karen Scioli).
Tony Verna, a long-time producer/director at WCAU-TV e-mailed quite some time ago: "Ed White created Shock Theater and I directed the pilot. Ed had a genius for that sort of thing."
Zacherle really "digged" digging in his garden. Knowing John who knows what, or should we say who he'll dig up." On Friday, November 19, 2010, John Zacherle was inducted into the Broadcast Pioneers Hall of Fame.
Visitor to our site, Gary Johnson writes: My brothers and I remember the good shows that Zacherle made. I miss the peeping through the keyholes and the break in scenes. What a wonderful show that was. He is and will always be the best Dr. of Darkness! Goodnight, whatever you are (the traditional Roland closing).
List and date of every movie on Shock Theater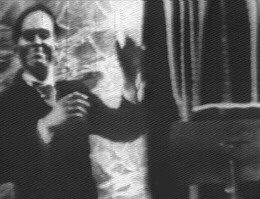 John Zacherle as Roland
WCAU-TV
Friday, March 7, 1958
Actually, this isn't a photograph at all. It's a video still from an amateur kinescope of John Zacherle's "Shock Theater" on Channel 10, WCAU-TV in Philadelphia. Here in Philly, he played a character called "Roland." Though "Shock Theater" ran in Philadelphia for only a year, Broadcast Pioneers member John Zacherle made quite an impression on the Delaware Valley.
Towards the last half of the season, he started jumping in during the movie and actually incorporating Roland directly into the movie. On Friday, March 7, 1958, WCAU-TV presented the classic "Dracula" movie starring Bela Lugosi. There's one scene where people are attending the theater and the local break-in shot was of Roland conducting the orchestra.
That Friday evening, an amateur photographer set up a crude 16 mm kinescope system and shot "Shock Theater" off the TV. It is the only known recording of Zacherle on "Shock Theater" on Channel 10. We were able to date the program because we have a complete listing of all the movies shown on Shock Theater. The movie Dracula was only shown twice and only once did the movie "Four Sided Triangle" follow it on the next night. Since John talked about the next night's feature and mentioned it by name, it made it quite easy to date.
We have in our archives, courtesy of "The Cool Ghoul" himself, John Zachele a copy of that kinescope. Here's a short condensation from that kinescope. Note how Zach incorporates the story and the commercial with the broom and the washing of the wall.
Watch with Real Video!
Watch with Windows Media!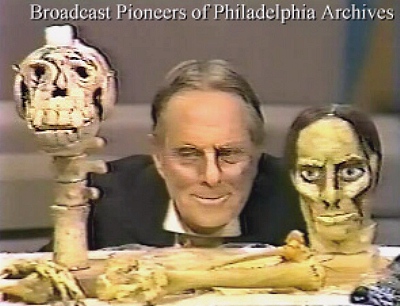 "Live on City Line" was a local program which aired on WCAU-TV, Channel 10 for a short while during late 1987 and early 1988. The hosts of the show were Sheela Allen-Stephens and a guy who "recently" joined the Channel 10 staff, 29 year-old Matt Lauer who later went on the host "The Today Show" on NBC Television.
Matt Lauer grew up in New York City and watched John Zacherle in "The Big Apple." It's obvious from watching our clips that Lauer was a fan of Zacherley, his moniker in NYC. Yes, it's spelled correctly. Zacherle's last name has no Y but his air name did. Go figure.
This show aired from 5 pm to 5:30 daily and the date of this particular broadcast is somewhere between these four dates, Monday, October 26th to Thursday, October 29th. Our best guess is that it is the Wednesday, October 28, 1987 program. We have three clips from that telecast.
In October of 2016, we updated the type of Real Video file so that it would play on all modern Real Video Players. At that time, we also added the Windows Media Format to our page. This was done just two days before John passed away.
20 MINUTE AUDIO INTERVIEW FROM 1968!
In 1968, John Zacherle visited the WRTI studios. On this occasion, it was for a taped interview.
The station had already one weekly series of radio drama on the air, "Playhouse 90.1" (already a lost art), and for the Spring 1968 season, a second series was offered, "Thru the Mist," a sort of Twilight Zone for radio. However, one of the time slots was cut to 20 minutes because of a Temple University sporting event. Broadcast Pioneers CEO Gerry Wilkinson, who produced both drama series, balked at the idea of cutting one of the programs which was already been produced and recorded.
Instead, he thought it might be a good publicity stunt to interview John Zacherle, who played Roland a decade before on WCAU-TV's Shock Theater. This is how this interview came into existence. The original tape lasted for 18 and a half minutes and was cut to fit into the proper time slot (reduced by about 90 seconds). First, what we have is the actual, original, edited interview. This air tape of the show has been buried for 32 years in the basement of Gerry Wilkinson's mother's house and "discovered" in 1999.
Temple University student Bruce Smallwood, who did the interview, later went on to become News Director at WPEN and eventually ended up with Mutual News. He passed away in 1988 at the age of 44.
This version of the interview was aired on April 27, 1968 at 7:30 pm over WRTI-FM. While the drama shows in the series were eventually rerun several times on the station and later broadcast on WGLS-FM, the Zacherle interview was broadcast only twice. Once in February of 1968 (the original airing) and once two months later on April 27th. It had but two airings. The interview was recorded in February of 1968, or possibly the end of January. We do not know the record date nor the date of the first airing.
For those in this business, or at least those familiar with it, this program will have extra meaning as John talks about Ol' Potato Head (Charlie Vanda, President of WCAU-TV), Jack Steck, John Facenda and others. Much of the interview is "tongue-in-cheek" and irreverent in flavor, but it was decided (in 1968) to leave it intact.
The original, uncut version of the interview was thought to have been destroyed. Producer Gerry Wilkinson found it in April of 2001 in an unmarked box. It is now available here exactly as originally recorded.
Just in case you are interested, this interview was recorded with one of those wonderful RCA 44 ribbon microphones. It was bi-directional. John spoke into one side and Bruce into the other. The interview was recorded in Studio B of the WRTI-FM studios which were located in the basement of Thomas Hall at the time. Several months later, the station moved across the street to new "digs" in Annenberg Hall. In 1998, the University tore down Thomas Hall, which was originally the Park Avenue Methodist Episcopal Church built in 1886. The building had fantastic acoustics.
The tape was recorded at 7 and a half ips and mastered on an Ampex 351 tape recorder. Our audio was mastered from the ORIGINAL master tape.
We also have about a minute of John Zacherle and Bruce Smallwood vamping before the start of the interview and about 13 minutes after the interview.
Listen to all this audio here!
ANOTHER AUDIO INTERVIEW (41 YEARS LATER):
As part of our continuing Oral History project, Broadcast Pioneers member Sam Lit spoke with John Zacherle on Tuesday, August 25, 2009, just weeks before Zach's 91st birthday.
MORE VIDEO:
On Wednesday, December 16, 2009, John Zacherle spoke for a half-hour at one of our luncheons. We have complete video available here!
On Friday evening, November 19, 2010, John Zacherle was inducted into the Broadcast Pioneers Hall of Fame. You can watch the video of him accepting right here!