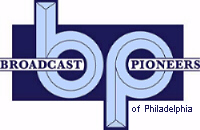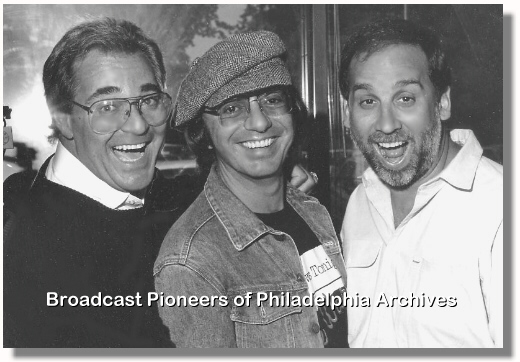 (Left to right) Hy Lit, Dion DiMucci and Harvey Holiday
circa 1989
Harvey Holiday's Sunday evening broadcast as been a mainstay of Philadelphia radio for decades. By this time, WDAS-FM had a console in the FM studio with the jocks running their own board. Only a year or two before, the jocks had switches only and an engineer was needed to ride level. An engineer was still needed to be on duty because WDAS (AM) was a directional station with two different patterns (one for daytime operation and the other for broadcasting at night). This meant that a first-class FCC licensed engineer was required at all times. This rule have since been relaxed and the first-class license is now called a "general radio-telephone license."
We have in our archive, some audio from a Sunday, January 30, 1972 program on WDAS-FM. There are two segments put together as one cut (with a second of dead air separating the two). This includes a commercial for the old "Record Museum" local chain of record stores.
Listen with Real Audio!
Listen with Windows Media!

From the official archives of the Broadcast Pioneers of Philadelphia
Photo originally donated by Broadcast Pioneers members Hy Lit & Sam Lit and Hy Lit Radio.com
© 2009, Broadcast Pioneers of Philadelphia
All Rights Reserved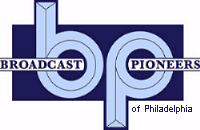 The e-mail address of the Broadcast Pioneers of Philadelphia is pioneers@broadcastpioneers.com