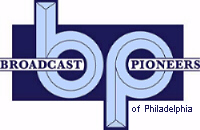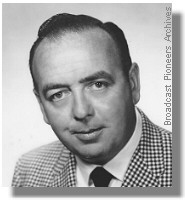 Bill Campbell
circa 1960
Broadcast Pioneers member Ed Harvey was one of the first telephone talk radio hosts in Philadelphia. He had a show on WCAU Radio weekdays in the afternoon called "The Talk of Philadelphia." During the week of January 6th through the 10th of 1964, Ed was on vacation and Broadcast Pioneers member Bill Campbell filled in for him.
We have in our archive, the 3 pm hour of Friday, January 10, 1964. Bill Campbell speaks with comic Phyllis Diller. This is a really interesting program because we all know Bill as the Dean of Philadelphia Broadcast Sports, but here, we see an entirely different side of him.
Here's a sidebar on how this show survived. Ed Harvey had many of his programs airchecked. Because of this, hundreds of fantastic broadcasts are now in our archive. Since Ed was away on vacation, we aren't sure why Ed would have had this show airchecked or how it ended up in his possession, but we're sure glad it did.
Ed's estate donated hundreds of his tapes to be digitized and archived in our DAP, Digital Archival Project. One of the tapes contained this interview. However, at some point (an educated guess was around 1980), Ed went through his tapes and marked some of them to be erased and re-used. This was one of them. Why? Ed Harvey didn't do the show and while he may have thought Bill Campbell did an excellent job, Ed was mainly interested in preserving his own work. Fortunately for us, the tape was never erased and survived into 2009 when we digitized the recording.
Ed also had the habit of asking the WCAU engineer to take the original reel-to-reel aircheck and dub it off removing the commercials. That seems to be what happened on this recording. There are no spots but the running time of this 3 to 4 pm hour was within the ball park of what it should run with the commercials removed and minus the national and local news before the segment. Therefore, we feel that this is what happened here. That's why this recording is 36:22 and has no breaks. It is one continuous segment, exactly as we found it on the reel-to-reel tape.
With all this said, let's now go back to Friday, January 10, 1964 and the Talk of Philadelphia hosted by Bill Campbell.
Listen in Real Audio!
Listen in Windows Media!

From the official archives of the Broadcast Pioneers of Philadelphia
Audio originally donated by the estate of Broadcast Pioneers member Ed Harvey
© 2010, Broadcast Pioneers of Philadelphia
All Rights Reserved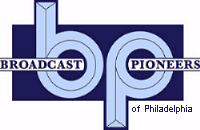 The e-mail address of the Broadcast Pioneers of Philadelphia is pioneers@broadcastpioneers.com