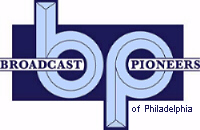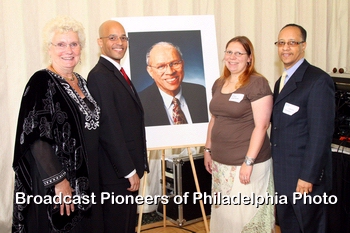 Mrs. Ilse Poindexter with Malcolm's two sons, Malcolm III and David
and Ilse's daughter Kirsten Kovalchick
at the Broadcast Pioneers' Tribute to Malcolm Poindexter
Wednesday, May 19, 2010
What an afternoon we had. It was simply wonderful. It all took place at the beautiful Bala Golf Club, 2200 Belmont Avenue in Philadelphia! Just minutes away from Channels 6, 10 and 17 plus the radio stations in Bala Cynwyd. The date was Wednesday, May 19, 2010.
Our moderator was Broadcast Pioneers member Trudy Haynes.
On the panel we had:
Pat Ciarrocchi, anchor and reporter for CBS 3, KYW-TV
Paul Gluck, former Channel 3 News Director & Malcolm's boss
Richard Johnson, friend of Malcolm at Opera Ebony
Robin Mackintosh, Malcolm's former KYW-TV colleague
Mike Quinn, retired producer for KYW-TV, Channel 3
Dick Standish, former reporter for CBS 3 & KYW Newsradio
Plus Malcolm's wife, Ilse Poindexter joined us along with Malcolm Poindexter's sons, Malcolm and David. The latter said a few words on behalf of the family. And we had Al Primo, live on the telephone. Al created the Eyewitness News format and was the one who hired Poindexter.
As an extra added attraction, we had the 3 Billion Second Man with us. That's right, all the way from Mexico, former NBC 10 reporter and anchor Gene Crane was there. He'll turn 90 years old on May 27th. That's just about 3 billion seconds. Gene told us about what he's up to.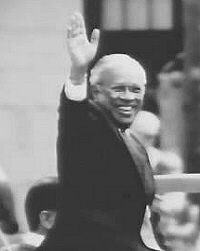 COMPLETE AUDIO OF THE LUNCHEON!
81 Photos of the Luncheon!
These pictures are protected under US Copyright.
Any usage without the express, written permission of the Broadcast
Pioneers of Philadelphia is strictly prohibited!
Usage does NOT fall under "Fair Use" of copyright laws!

From the official archives of the Broadcast Pioneers of Philadelphia
Top photo originally donated by Broadcast Pioneers member Jerry Klein
Audio orginally donated by Broadcast Pioneers members Dave Michaels & Bill Gellhaus
Video courtesy of MetraMedia Studios and Broadcast Pioneers member Brad Seecof
© 2010, Broadcast Pioneers of Philadelphia
All Rights Reserved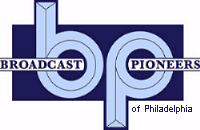 The e-mail address of the Broadcast Pioneers of Philadelphia is pioneers@broadcastpioneers.com