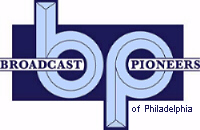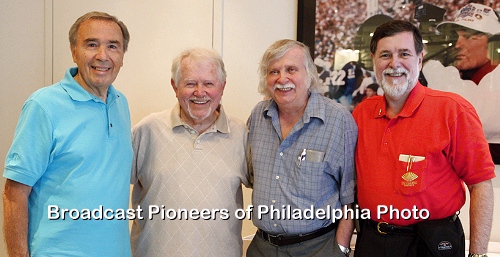 (Left to right) Former Chairman & current Treasurer Pat Delsi
Former Broadcast Pioneers Board member Tom Moran
Current Chairman of the Board Gerry Wilkinson
Current President Jerry Klein
Lobby of NFL Films
Mount Laurel, NJ
Tuesday, July 20, 2010
You had your chance to tour NFL Films, One NFL Plaza in Mount Laurel, NJ. As you can see from the above photo, it's a huge 200,000 square foot facility and there's lots to see on their 26 acres. They moved there in 2002 and it was erected at a cost of 45 million dollars (and that's less than their revenue for just one year).
It all took place on Tuesday morning, July 20th at 10:30 am. We have a totally filled-up event. We were turning people away. (Next time, reserve early!)
If you thought that they are all video, you would be wrong. There's entire wing dealing just with audio. Studio A can hold a 72 piece orchestra, so you know it's large. Thought that they're just football, well, you would be wrong again. In 1983, they produced the music video for Journey's hit, "Faithfully."
Since 1964, NFL Films has revolutionized how Americans watch football and it is they that sets the standard for sports film making. They have won 97 Emmys and are recognized as the most honored film maker in the world of sports. Each year, NFL films produces more than 2500 hours of new NFL programming for the NFL Network and others.

NFL Films
Mount Laurel, NJ
The tour took two hours. We started the event with something special. We announced who will be the Broadcast Pioneer's Person of the Year. It's Kelly Ripa. Plus, we told everyone about who's going to be inducted into our Hall of Fame this year (see above story). (The Person of the Year/Hall of Fame banquet is in November).
This was an especially appropriate location for this year's announcement because both the founder of NFL Films, Ed Sabol and his son Steve, who now runs the operation, were both inducted into our Hall of Fame in 1996. Of course, we can't forget the famous narrators for NFL Films, Broadcast Pioneers members John Facenda and Harry Kalas (both in our Hall of Fame).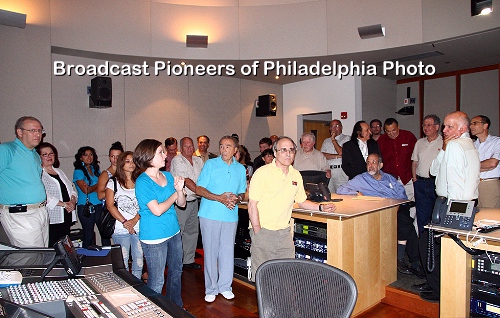 One of our tour groups
NFL Films
Mount Laurel, NJ
Tuesday, July 20, 2010
Photo by Broadcast Pioneers President Jerry Klein
The event was free and was open to all our members, any person in the industry or associated fields; both people now active and retirees and our usual crowd. You did NOT have to be a member to attend.
These copyrighted pictures are protected under US Copyright.
Any usage without the express, written permission of the Broadcast
Pioneers of Philadelphia is strictly prohibited!
Usage does NOT fall under "Fair Use" of copyright laws!

From the official archives of the Broadcast Pioneers of Philadelphia
Top and Bottom Photo originally donated by Broadcast Pioneers member Jerry Klein
Middle Photo courtesy of NFL Films
© 2010, Broadcast Pioneers of Philadelphia
All Rights Reserved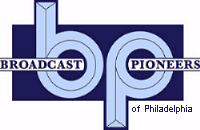 The e-mail address of the Broadcast Pioneers of Philadelphia is pioneers@broadcastpioneers.com