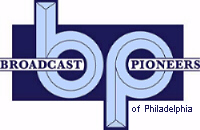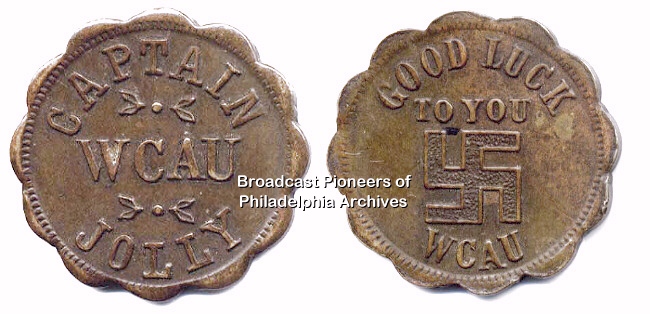 A "Coin" from WCAU Radio
This "coin" is about three-quarters of an inch in diameter. Both sides of it are shown. The one side has a reverse swastika, a symbol of good luck before the nazis corrupted its meaning.

"The Swastika" is the oldest cross and emblem on the globe. It forms a combination of four "L's" standing for Luck, Light, Love and Life. It's been found in ancient Rome, excavations in Greece, on Buddhist idols, on Chinese coins dating to 315 B.C., and our own Southwest Native Americans used it as an amulet. It is claimed that the Mound Builders of the Ohio River Valley and Cliff Dwellers of the Southwestern United States, consider "The Swastika" a charm to drive away evil and bring good luck, long life and prosperity to the possessor.

We believe that this coin dates from somewhere around 1931. "Captain Jolly" and later "The Jolly Man" was a children's radio broadcast created to combat the popularity of WIP Radio's "Uncle WIP." We believe that Wayne Cody played both characters on Philadelphia radio.
Frieda Wone of WPVI has the "coin" and we asked how she got it. She says:
My dad owned a Chinese hand laundry and kept a small lost and found box near the counter with items that were left in customers' pockets, mostly things like cufflinks or other pieces of costume jewelry. This was one of those items. He was in business since the late 40's, early 50's through the late 80's and had a wide range of clientele. His customers ranged from politicians to Chubby Checker (before he learned to "twist"). So it's really hard to know just when he might have come across it.
We have seen a photo of a metal dye used to stamp this type of coin. The dye we saw was round. However, looking at the inner circle, that dye could have been used to stamp this coin.
The earliest radio listing that we can find that mentions "Captain Jolly" is from Saturday, August 8, 1931. However, this doesn't mean that the show didn't exist before that date. We know that when "Uncle WIP" came on the air in 1922, the radio listings only called the program "Bedtime Kiddie Stories" with no mention of "Uncle WIP." As his popularity grew, his name was added to the listings. So, this could be something similar.
A few days later, we found another listing from Thursday, August 13, 1931 and another one from Saturday, September 5, 1931, we found a WCAU Radio program called "Captain Jolly" that aired from 5:30 pm to 5:45 pm. We believe that the Captain Jolly was a daily broadcast running Monday through Saturday.
In Europe, the growth of the Nazis continued. This was very distasteful to many Americans and the radio station, we believe, decided to re-brand the program as "The Jolly Man" with no coin and no use of the swastika. In a radio listing dating from Tuesday, June 28, 1932, we found a WCAU Radio program called "The Jolly Man" airing from 5 pm to 5:15.
By May of 1933, The Jolly Man was moved to the 8:30 am time period. The program was still on WCAU by Thanksgiving of 1933. However, just six months later (April of 1934), "The Jolly Man" was broadcast on WFI Radio. In less than a year, the station would became WFIL.
In 1935, "The Jolly Man" was broadcast on WFIL radio. It was a children's show sponsored by Strawbridge and Clothier, a local department store. That business was also owner of WFI which merged with WLIT to form WFIL in January of 1935, just months before. Did Wayne Cody move his popular broadcast over to WFIL? We believe he did.
There was a 1935 book issued called The Jolly Man's Juvenile Jingles. It was written by "your radio friend, Wayne Cody, The Jolly Man." The book was paperbound and measured six by 9 inches. Each page had one poem with a small drawing. The cover had a pig dancing with a bunny under a tree. Some of the poems were: "Carefulness on The Fourth Of July,""Evolution of Heat," "Easter Time" and "The Roadside Stand."
Later, Wayne Cody became "Uncle WIP" both on radio and on TV. The "Uncle WIP" broadcast was always on WIP Radio and the television show was on Channel 10, WCAU-TV as "Uncle WIP." In 1946, it was part of a TV series, "All Eyes on Gimbels" which aired on Channel 3, WPTZ. Around 1948, Wayne Cody moved outside of the Philadelphia broadcast market and another announcer became "Uncle WIP."
Wayne Cody's real first name was Wendell (Wendell Wayne Cody) and he was born in 1904 and passed away in 1985. Cody's son, Wayne Wendell Cody, had a fabulous career in sports broadcasting working mostly on the west coast
From the official archives of the Broadcast Pioneers of Philadelphia
Photo images originally donated by Frieda Wone of WPVI-TV
© 2008 & 2015, Broadcast Pioneers of Philadelphia
All Rights Reserved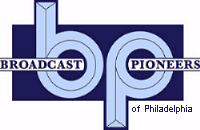 The e-mail address of the Broadcast Pioneers of Philadelphia is pioneers@broadcastpioneers.com