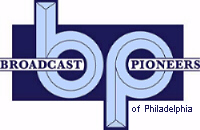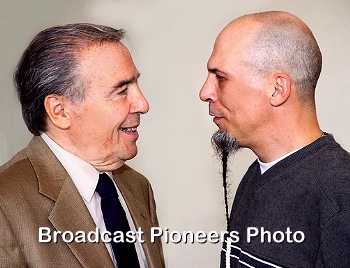 Members Pat Delsi and Dave Michaels
Broadcast Pioneers luncheon
Bala Golf Club, Philadelphia
Wednesday, March 21, 2012
(FYI - Dave is Pat Delsi's son)
Broadcast Pioneers member Pat Delsi has worked in broadcasting since the early 1950's. He has conducted daily radio programs in the Delaware Valley as well as a variety of programs on many other stations including: WCAU, KYW. WFIL, NBC Monitor, WWBZ, WWDB, WUSS, WCOJ, WRCV, WPHL-TV, WTAF-TV, WPVI-TV, Channel 2 South Jersey Cable TV, and TELE-Systems Cable TV.
His programs included TV game shows, talk shows and music programs, radio phone opinion, music and conversation programs as well as live sports broadcasts. Included are: a three-hour documentary live from Tokyo, Japan, followed by a four-hour live sports broadcast from Korakoen Stadium in Tokyo, and live sports and public service broadcasts from locations all over the world, including China, Hawaii, Las Vegas and Branson, Missouri.
His works include hundreds of articles and columns published regularly in a dozen local newspapers as well as state and national newspapers and magazines.
Pat has been active in, and continues to provide volunteer services to almost every civic organization in the area, state, and country including, Kiwanis, Girl Scouts, YMCA, YWCA, Diocese of Camden, UNICO, South Jersey Basketball Club, Rotary, Lions, Jewish Community Center, BPUM, Sons of Italy, Knights of Columbus, Boy Scouts, Camden Jaycees, March of Dimes, New Jersey Junior Miss Pageant, and the New Jersey Jaycees.
As General Manager of WCAM, Pat transformed a station that had lost money and prestige over the previous forty seven years into a profitable, professional, and popular station in the Philadelphia-South Jersey area.
Pat purchased, owned, and operated WSSJ, The Superstation at l3l0, a full service radio station serving five and a half million people in the Delaware Valley.
Pat currently serves as President of PDS Broadcasting, Inc., who are management/consultants on radio and TV commercial productions, specialty programs, and syndication.
He is also President of PDS Entertainment Co., a full service company providing complete entertainment packages for theaters, nightclubs, and social functions.
Pat is President of the Philadelphia Press Association, representing members of the Delaware Valley news media, newspapers, radio, TV, and wire services.
Pat is a past President and a past Chairman of the Board of Broadcast Pioneers of Philadelphia. He currently serves as Treasurer.
He is past President/Chairman of the Board of New Jersey Broadcasters Association, representing all of the broadcast stations in New Jersey, currently serving as member of the Board.
AWARDS
Listed below is a representation of some of the awards presented to Pat Delsi:
Outstanding Service Award Boy Scouts of America
Outstanding Service Award Kiwanis
Outstanding New Jersey Jaycee New Jersey Jaycees
Outstanding State Chairman New Jersey Jaycees
Outstanding Service Award Camden County Girl Scouts
Outstanding Service Award YMCA
Distinguished Service Award Camden Jaycees
Outstanding Young Man of the Year Sons of Italy
Outstanding Service Award UNICO
Distinguished Service Award Berean Assembly Church
Outstanding Service Award IAABO Board
Outstanding Service Award Camden County Mental Health Association
COMMUNITY ACTIVITIES
Pat served on:
Board of Directors Camden County Mental Health Association
Board of Directors United Way
Board of Directors New Jersey Broadcasters Association
Board of Directors New Jersey Associated Press Broadcasters Association
Board of Directors Knights of St. George
Board of Directors Knights of Columbus
Pat served as:
County Advisor County March of Dimes
Executive Director National Foundation
Executive Vice President Camden Jaycees
Vice President New Jersey Jaycees
National Director United States Jaycees
Chairman Jaycee Football Classic
Chairman Parish Support Program
UPDATE
On September 7, 2012, Pat and Marge Delsi will celebrate their 55th wedding anniversary. They have eight children and nineteen grandchildren.
On September 19, 2012, Pat Delsi will celebrate his 59 th anniversary in broadcasting.
As a "DJ," he has introduced over a million songs on the air.
As a newscaster, he reported over 150,000 five minute newscasts in the Delaware Valley.
As a sportscaster, he has done "play-by-play" for over 5000 high school, college and professional football, basketball and baseball games.
As a broadcaster he has conducted more than 5000 interviews with people from all walks of life from the King of Comedy (Milton Berle) to U.S. President (Gerald Ford).
Pat is still active with college basketball.
Pat was recently inducted into Drexel University's Sports Hall of Fame, and just completed a record thirty years of broadcasting Drexel basketball games.
Stuart Kravitz, a visitor to our website e-mailed: Actually, while still in high school, I worked weekends as a part-time engineer for Andy Allen, the chief engineer at WCAM Radio, atop Camden's City Hall along with Pat Delsi. Great fun. And a great view from the roof-top balcony. Pat was great to work with. I got the job 'cause I managed to get a First Class FCC license after being exposed to amateur (ham) radio in NE Philly. There were a ton of us kids who were very active in ham radio back then.
From the official archives of the Broadcast Pioneers of Philadelphia
Written by Broadcast Pioneers member Art Wilson
Photo taken by Broadcast Pioneers member Jerry Klein
©2012, Broadcast Pioneers of Philadelphia
All Rights Reserved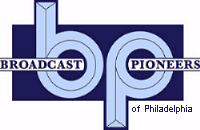 The e-mail address of the Broadcast Pioneers of Philadelphia is pioneers@broadcastpioneers.com