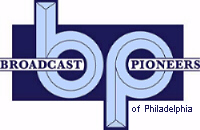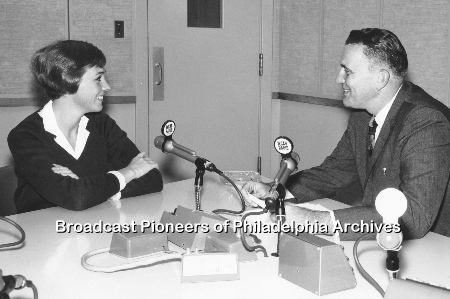 Julie Andrews with Broadcast Pioneers member Ed Harvey
WCAU Radio Studios
Wednesday, October 19, 1964
This is one of the radio studios of WCAU. Julie Andrews (left) was being interviewed by Broadcast Pioneers member Ed Harvey on his telephone conversation show, "The Talk of Philadelphia." The picture dates from Wednesday, October 19, 1964.

Long-time WCAU tech Charlie Higgins e-mailed:
Because of the placement of the door into the sound lock and the window frame that looks out into the hallway you can just see behind Ed plus the type of soundproofing on the wall I'd would say this is the new Studio "A."

While originally radio studios "A', "B" and "C" were at the rear of the building and Master Control, Studio "D", the Recording Room and Announce Booth were at the front of the building in the interim period while I worked for WFIL (1960-1965) the MCR, Studio "D", Recording Room and Announce Booth were relocated to the rear of the building. I think about 1963 this occurred. In the new setup there was no Announce Booth.

Television took over all the area formerly occupied by radio as a result of CBS breaking everything into separate divisions such as CBS Radio, CBS News, CBS-TV Network, CBS Radio Network, CBS TV Stations, etc. Dumb, because all the money still went into the same coffers. Another damned bean counter decision.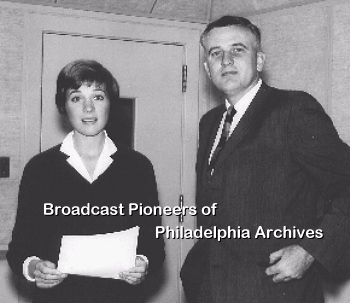 Julie Andrews with Broadcast Pioneers member Ed Harvey
WCAU Radio Studios
Wednesday, October 19, 1964
We have in our audio archive an interview that Ed did on Wednesday, October 19, 1964. Actress Julie Andrews appeared on "The Talk of Philadelphia" program on WCAU Radio. The show was hosted by Broadcast Pioneers member Ed Harvey and the interview told place during the 1 to 2 pm hour of the broadcast. This is from a reel to reel tape recorded at WCAU Radio. Ed always asked the engineer to stop the tape during the commercials. Because of this, we have prepared this priceless show as one complete interview with no stopping for spots. This program hasn't been heard anywhere for more than 45 years (unless you lived in Ed Harvey's house).
Listen in Real Audio!
Listen in Windows Media!
Julie was in town for the opening of the Walt disney movie "Mary Poppins." Within a few months of this interview, "The Sound of Music" was released.
Julie Andrews' Bio
British born as Julia Wells on October 1, 1935, Julie Andrews began learning both tap and ballet from an aunt at an early age. Julie's mother, Barbara had a job as a pianist and worked with a performer named Ted Andrews. Soon Barbara & Ted were a musical duo and toured throughout England.

In 1939, Barbara & Ted Wells were divorced. Ted Andrews and Barbara were married shortly thereafter. Julie's voice lessons began with her step father and she at times was part of their performances. Julie took the name of her stepfather for the sake of the act.

On December 5, 1946, at Stage Door Canteen, Julie's first performance as a soloist was attended by members of the royal family. Julie continued to delight the English audiences by performing regularly on the BBC. She landed her first dramatic role in a new play called "Mountain Fire." Cy Feuer saw her performance and thought she would be perfect for his new musical. After much consideration, Julie agreed to a one year contract performing on New York City's Broadway in "The Boy Friend." Her later theatre musicals included My Fair Lady, Camelot, and Victor/Victoria.

Walt Disney made a trip to see her in Camelot and was delighted. He thought she would be excellent in his new live action movie, Mary Poppins. Sixteen additional films would follow. Many were musicals but not all.

Julie appeared in 1956 in a television show entitled "High Tor" with Bing Crosby. "Cinderella," a Rodgers and Hammerstein musical, was said to have been written especially for her in 1957.

She also wrote the first of her two children's books called "Mandy," published in 1971. T he second, written three years later, was entitled "The Last of the Really Great Whangdoodles."

From the official archives of the Broadcast Pioneers of Philadelphia
Top Photo originally donated by Broadcast Pioneers member Ed Harvey
Bottom Photo and audio originally donated by the estate of Ed Harvey
Neither the interview nor the pictures fall under the "fair use" provision of US copyright laws
© 2006 & 2011, Broadcast Pioneers of Philadelphia
All Rights Reserved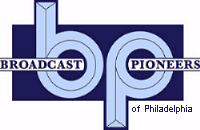 The e-mail address of the Broadcast Pioneers of Philadelphia is pioneers@broadcastpioneers.com