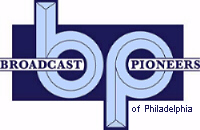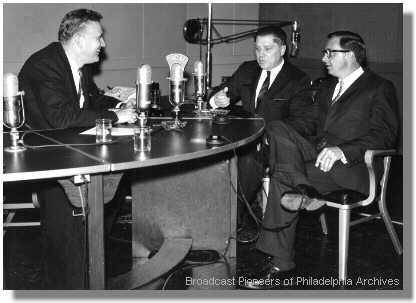 (Left to right) Ed Harvey, Jimmy Hoffa and John Downey
WCAU Radio Studio
March 1963

(Click on the photo to see a larger version)

In the sixties, Broadcast Pioneers member Ed Harvey was hosting a program WCAU Radio called "The Talk of Philadelphia." His guest, one afternoon in March of 1963 was Jimmy Hoffa, President of the International Brotherhood of Teamsters. Joining in for the photo opt was WCAU's Vice-President and General Manager, Jack Downey (5th President of the Broadcast Pioneers of Philadelphia, 1966-67). We do have a recording of this broadcast in our archive. We hope at a later date to make it available on our website.

James Riddle Hoffa was born in 1914 in Brazil, Indiana and disappeared in 1975, at the age of 61. He was an U.S. labor leader, and began organizing workers in 1930. From 1935 to 1971, he has held positions of president of the Detroit local, vice president and then, president of the International Brotherhood of Teamsters.

Hoffa earned a reputation as a tough and effective bargainer. In 1964 he negotiated the union's first national contract with trucking companies. Under his leadership, his union membership grew to more than two million members. Some workers in the communications field were part of the Teamsters Union.

Hoffa was accused of corruption in 1964 and convicted of mail fraud and mishandling funds. He was sent to prison from 1967 to 1971 with the sentence commuted by President Richard Nixon.

Hoffa disappeared from a parking lot of a Bloomfield Hills, Michigan restaurant on July 30, 1975 and was presumed murdered. Despite one of the most intensive FBI investigations ever, Hoffa's disappearance still to this very day remains a mystery.

Hoffa's daughter, Barbara Crancer, is a circuit court judge in St. Louis. His son, Jimmy, Jr. is active in the Teamsters Union. One of Hoffa's best known quotes is "I may have faults, but being wrong ain't one of them."

From the official archives of the Broadcast Pioneers of Philadelphia
Photo originally donated by Broadcast Pioneers member Ed Harvey
Researched and written by Broadcast Pioneers member Gerry Wilkinson
© 2009, Broadcast Pioneers of Philadelphia
All Rights Reserved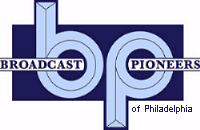 The e-mail address of the Broadcast Pioneers of Philadelphia is pioneers@broadcastpioneers.com