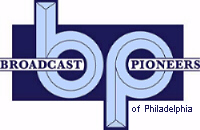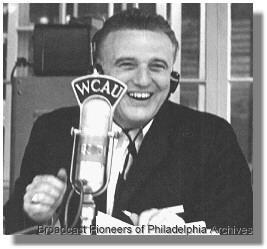 Ed Harvey
WCAU Radio remote
circa 1963

On Good Friday, March 27, 1964, legendary WCAU Radio talk show host Ed Harvey, a member of the Broadcast Pioneers of Philadelphia, did a special program on his "The Talk of Philadelphia" radio show. He spoke to religious leaders and his guest during the first hour was Dr. Norman Vincent Peale. The second hour had Adela Rogers St. John and the third Billy Graham. The program was aired daily from 1 pm until 4 pm.

Born in rural Ohio, Norman Vincent Peale helped support his family by delivering newspapers, working in a store, and selling pans door to door. For five decades, Dr. Norman Vincent Peale was one of the most influential Protestant clergy in America. He authored 40 books. His best known was "The Power of Positive Thinking" which sold over 15 million copies. Dr. Peale founded the Foundation for Christian Living in 1945. He died on Christmas Eve in 1993 at the age of 95.

We have divided the hour into two sections. On the first part, Ed Harvey set up the program and chatted with Leonard Peale, Norman's brother. Leonard was Director of Special Projects for "Guidepost" magazine, published by Peale's foundation. Click on the blue button for the audio which is currently available only in the Real Audio format!
After the station break and a couple of commercials, Dr. Norman Vincent Peale joined Ed Harvey and the WCAU listeners on the program via the telephone. This cut has been upgraded in quality and is now available in both the Real Audio format and also in the Windows Media format!
Listen with Real Audio!
Listen with Windows Media!

From the official archives of the Broadcast Pioneers of Philadelphia
Photo & audio originally donated by Broadcast Pioneers member Ed Harvey
Clip used with the permission and authority of WPHT, which used to be WCAU Radio
© 2004 & 2012, Broadcast Pioneers of Philadelphia
All Rights Reserved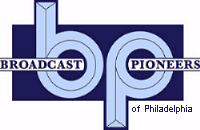 The e-mail address of the Broadcast Pioneers of Philadelphia is pioneers@broadcastpioneers.com