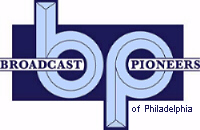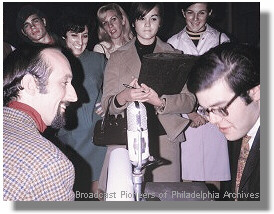 Paul Stookey with Broadcast Pioneers member Ed Sciaky
backstage at the Academy of Music
Philadelphia
October 1967
Broadcast Pioneers member Ed Sciaky was a legend in Philadelphia radio. However, his first broadcasts were on WRTI-FM, the Temple University radio station. At that time, the broadcast outlet was a learning platform for undergraduate students and was totally student run. Ed was the station's Music Director and his office was"nicknamed" Sciaky One-Stop!

In the fall of 1966, Ed Sciaky took over hosting duties from the previous guy, Barry Berg. The program was called "Broadside," and was a four-hour radio folk music program, Saturday evenings from 8 pm to 12 midnight.

While it was technically a folk show, it was sometimes a thinly-veiled attempt to play rock music on the college station where the administration had banned rock and roll.

We have in our archives, thanks to Judy Sciaky, Ed's widow, a complete four hour broadcast from Saturday, April 27, 1968. This Broadside program ran from 8 pm until midnight. Normally, the show would have four 5-minute newscasts at the top of each hour, but on this day, there were none. Newscaster Mike Biel (who was also the student station manager) was AWOL so he and his date (the future Mrs. Biel) could attend the senior prom. In fact, at one point, Biel showed up dressed in a tux and Ed commented about it. Dr. Mike Biel is now a communications professor at Moorehead University in Kentucky.

If you listen carefully, you will hear a slight echo on Ed's voice. This was not done electronically. It was Saturday evening and no one was around, so Ed left the door to studio C open. The WRTI-FM studios at that time were in the basement of Thomas Hall (building was demolished in July of 1998). When empty, voices would reverb off the corridor and walls. So, it's a natural echo.

Because of a licensing situation, we have removed all the music and just have Ed's voice from the very beginning of the show until the end. A little after ten o'clock, Ed aired a recorded interview with Gordon Lightfoot. That interview is not included. Why?

Because Ed was a college student. He worked part-time at the Philadelphia Flyers ticket office (where he met Judy - she came to buy a ticket). Like most students, Sciaky had little money. Out of his own pocket, he purchased two reels of Sam Goody's brand recording tape. Without the interview, his 4 hours would fit almost perfectly on the two tapes. If it included the interview (which was already on a separate tape), Ed would have needed an additional reel. At $2.50 a tape in 1968 money, that's about $15 a reel in today's funds. It was out of his budget. Besides, he had the interview elsewhere.

Well, we did find the two reels that contained the show but not the one with the Lightfoot interview. However, we are grateful for what we have. Although Ed had just turned 20, you can hear in this recording his style and manner are almost fully developed. This recording laid the groundwork for the Ed Sciaky most of us grew to know and love.

On the audio, we have placed 2 seconds of dead air between each cut. It will automatically track from one to the other. All you have to do is listen.

By the way, the John Zacherle interview that Ed talks about is available on our website. It was produced by Broadcast Pioneers member Gerry Wilkinson, Ed's friend for 40 years. It aired just before this particular "Broadside" program. Note that by this time, Ed makes little reference to the program's name; just "Ed Sciaky with you until midnight."
From the official archives of the Broadcast Pioneers of Philadelphia
Photo originally donated by Broadcast Pioneers member Jerry Klein
Audio originally donated by Judy Sciaky, Ed's wife
© 2005, All Rights Reserved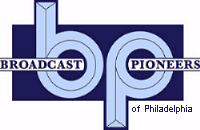 The e-mail address of the Broadcast Pioneers of Philadelphia is pioneers@broadcastpioneers.com