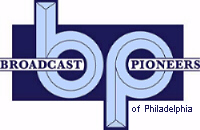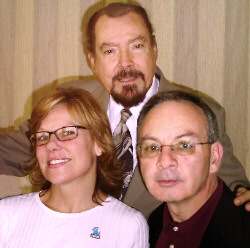 (Back) Bill "Wee Willie" Webber, Chairman of the Broadcast Pioneers
(Front, left to right) Elise Brown, Senior Public Relations Manager for Sirius Satellite Radio
Frank J. Hogan, President, Broadcast Pioneers of Philadelphia
at the Bala Golf Club
April 20, 2005

Elise Brown of Sirius Satellite Radio was our speaker for our Wednesday, April 20, 2005 luncheon at the Bala Golf Club. Elise Brown is the Senior Manager of Public Relations for Sirius Satellite Radio in New York City, where she has worked since 2001. She's does weekend on-air for Sirius' adult alternative music channel, "The Spectrum."

A radio broadcaster since the late 1970s, when she co-founded a radio station at her high school, Brown did drive time in Burlington, VT, Portsmouth, NH, and WMMR, here in Philadelphia. Brown also was on-air at English-language KLOV in Paris, France during the mid-'80s, and afternoons at WXPN, from 1992 to 1995. From 1997 to 2001, Brown was heard weekend afternoons on modern rock WPLY (Y 100), Media, PA.
Listen to her complete remarks!
Watch a Video Clip

The Broadcast Pioneers of Philadelphia was pleased to announce the winners in our annual scholarship competition for area college students majoring in communications. The scholarships are for students who will be either a junior or senior in academic year 2005-06. One thousand dollar scholarships was presented to all six of our winners at the April luncheon.

And the envelope please.... 2005's winners were:
Matt DeLucia of LaSalle University, GP 3.48
Currently a producer for LaSalle's cable TV station
Wants to be a broadcast journalist

Amie Haverluk of Elizabethtown College, GPA 3.6
Worked as an overnight editor/producer for WGAL-TV, Lancaster
Goal is to work in TV production

Steve Heald of Rowan University, GP 3.6
Did a stretch at Comcast Sportsnet
Wants to become a sports broadcaster

Cassandra Kramer of Temple University, GPA 3.46
Reporter for WRTI-FM & intern at WPHL-TV
Goal is to anchor or report for a top 10 TV market

Benjamin Rosehart of LaSalle Univeristy, GPA 3.33
Served as Executive Producer at LaSalle's cable TV station
Would like to do sports journalism & broadcasting

Elizabeth Watts of Rowan University, GPA 3.52
Public Affairs Director for WGLS Radio
Wishes to pursue a career in broadcasting

Congrats to all our winners! They received their scholarship grants from the Broadcast Pioneers of Philadelphia at our Wednesday, April 20th luncheon.

From the official archives of the Broadcast Pioneers of Philadelphia
© 2009, Broadcast Pioneers of Philadelphia
All Rights Reserved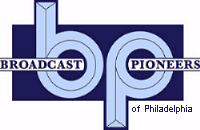 The e-mail address of the Broadcast Pioneers of Philadelphia is pioneers@broadcastpioneers.com