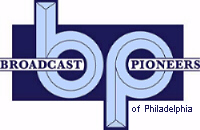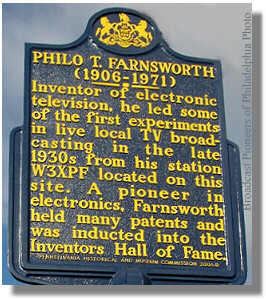 State Historical Marker
Wyndmoor, Pa.
Friday, September 15, 2006

It was at 4 pm on Friday, September 15, 2006 when the state marker (shown above) was unveiled honoring Philo Farnsworth and his experimental television station, W3XPF. Here's video of the ceremonies.
One of the speakers was Tom Keels, who wrote a series of articles about Philo Farnsworth. After the unveiling, you see Janet Klein, one of the commissioners of the PHMC. She is the wife of Lew Klein, former president of the Broadcast Pioneers of Philadelphia. Lew was Executive Producer of "American Bandstand" during its Philly years, a member of the board of directors of Dick Clark Productions and former co-owner of the Gateway Communications broadcasting group.
FYI - The video is encoded in two parts using Real Video Surestream. Here's what that means. Surestream allows one file to contain to different video streams, one for dial-up users and a better, more clear version for DSL and cable users. Your computer will automatically select the correct stream. It is encoded in two halves for easier and faster loading regardless of how you connect to the Internet. Broadband users will set an almost seamless presentation while dial-up users may have to wait ten or fifteen seconds for each segment to load. This is normal.

From the official archives of the Broadcast Pioneers of Philadelphia
Photo originally donated by Broadcast Pioneers member Dave Shayer
Video courtesy of Albert Tedesco and The Documentary Laboratory
All Rights Reserved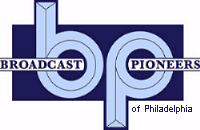 The e-mail address of the Broadcast Pioneers of Philadelphia is pioneers@broadcastpioneers.com