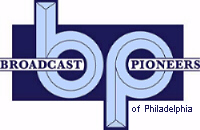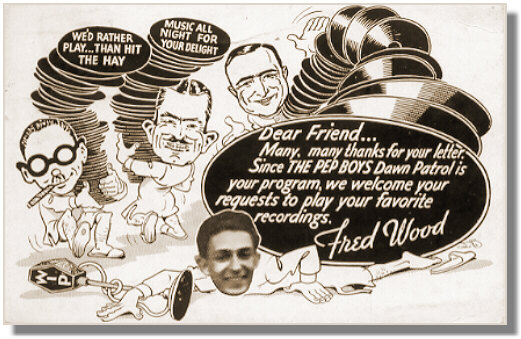 A WIP Radio Postcard
1941
WIP Radio was, indeed, a pioneering radio station in Philadelphia. Besides being one of the first AM stations on the air in the Quaker City, it was also one of the first stations to offer late night programming.

This postcard dates from 1941 when the overnight shows, dubbed "The Dawn Patrol" was hosted by Fred Wood.

Wood left WIP in the early fifties to become General Manager of WWBZ (1360 AM) in Vineland, NJ. Broadcast Pioneers member Pat Delsi who owned WSSJ, 1310 on AM in Camden, said: He gave me my first job in radio back in 1953 at WWBZ in Vineland. Fred was GM at the time.

In 1957, Wood reached an agreement with Union Lake Broadcasters to purchase WMLV (1440 AM). The station went off the air while Fred rebuilt the facilities. They came back on the air in January of 1958 as WMVB. Early in 1962, Fred Wood put WMVB-FM, 97.3 on FM) on the air. He sold the stations on February 1, 1969 and started a TV cable franchise in Cumberland County. In 1976, he started WWOC, 94.3 on FM and based it in Avalon, New Jersey. The station was sold a decade later.

After selling the station, Fred Wood moved to Florida. He passed away in the late 1990's. Shortly before his death, he was honored by the New Jersey Broadcaster's Association for his contribution to the broadcast industry.
Robert Wood, son of Fred Wood, e-mailed:
Thank you for your web page honoring my father, Fred Wood, and his time not only at WIP but his ownership of WMVB and Holly City Cable.... I do know that, by some point in 1941, he was in flight school with the Navy and married my mother around that time. They divorced in 1951 and he married Dorothy Carlson in the
mid-'70s just before moving from Avalon to Marco Island. She died about 8 months before he did. I think he just gave up the will to live after he lost her.
Robert Wood thinks that the above pictured postcard dates from before 1941. He thinks that it may be from as early as 1935. However, we still use the 1941 date because that is the date of the postmark.
From the official archives of the Broadcast Pioneers of Philadelphia
Photo originally donated by Broadcast Pioneers historian Gerry Wilkinson
© 2009, Broadcast Pioneers of Philadelphia
All Rights Reserved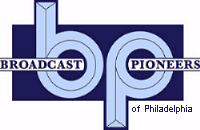 The e-mail address of the Broadcast Pioneers of Philadelphia is pioneers@broadcastpioneers.com