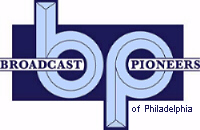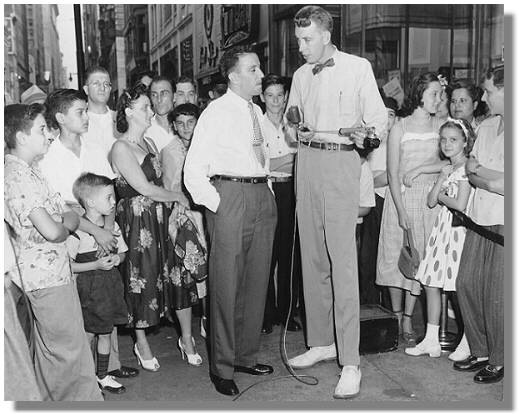 Gene Crane (left) & Bill Hart (right)
"On Chestnut Street" TV Show
circa 1948

In 1948, WCAU-TV came on the air from their facilities at 1622 Chestnut Street in Center City Philadelphia. The new station needed programs and one easy (and cheap) idea was Man on the Street interviews. This photo shows Gene and Bill outside the WCAU-TV studios doing one of these broadcasts.
In November of 1948, WCAU-TV started a new hour-long television program called "Homemakers' Matinee." It aired from 2 to 3 pm, Monday through Friday. "Homemakers' Matinee" was, in reality, three different shows. From 2 pm to 2:30 pm, it was the "Cinderella Weekend" segment. Then at 2:30, there was a 15 minute piece called "Homemakers at Home" and the last fifteen minutes was a part entitled "On Chestnut Street."
The hour-long broadcast had a live studio audience (they were there for all three segments or shows) and originated from the WCAU-TV studios in center city Philadelphia at 1622 Chestnut Street. This picture is from the "On Chestnut Street" segment. Below, we have two close-ups from the above photograph.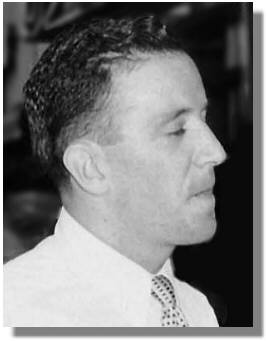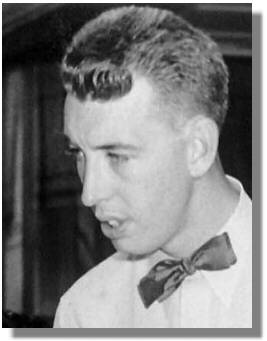 Gene Crane is on the left and Bill Hart on the right.



From the official archives of the Broadcast Pioneers of Philadelphia
Photo originally donated by Broadcast Pioneers member Gene Crane
© 2003, All Rights Reserved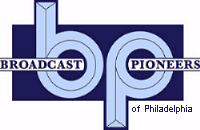 The e-mail address of the Broadcast Pioneers of Philadelphia is pioneers@broadcastpioneers.com