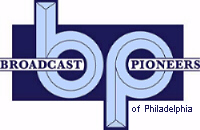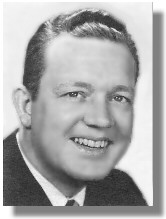 George Thomas
1966
From our archives, we have four programs, FOR WOMEN ONLY. The host of the show was Creighton Stewart. However, we have four programs which featured Broadcast Pioneers member George Thomas filling in. All of these broadcasts are from September of 1958. It aired twice a day over WCAU Radio, at 12:15 pm and 2:45 pm. These were new times for both airings of the show and the new times took effect at the beginning of September of 1958. Each program was different and always new.

Here's another "For Women Only" show done by George Thomas. While we can't be sure of an air date for the fifth show, we do believe it to be from September 1958.
During program #5, George Thomas talks about several things. One is Claxton, Georgia. It's a small town of 3000 and they're famous for their Fruit Cakes. During August of 1968, Broadcast Pioneers member Gerry Wilkinson took a tour of the Claxton Baking Company's facilities. (He didn't have anything better to do - actually he got lost and ended up in Claxton). Gerry and his family brought back some of the fruit cakes. Today, the company is still making them and they are distributed in the Delaware Valley. There's a place in Drexel Hill that carries them and every Christmas, Gerry buys four or five of their cakes.
Long time tech at WCAU Radio, Charlie Higgins writes...
George Thomas was a staff announcer from about 1937 on. He started at WCAU after graduation from Upper Darby High School.

Creighton Stewart did a women's program twice a day in the morning on WCAU called "For Women Only". The theme song for the program was "Every Day Is Ladies Day With Me." At the Chestnut Street studios, he was the spokesman for the HPL, the Housewives Protective League, a kind of Good Housekeeping Seal of Approval sub division of CBS. I seem to recall that it may have been referred to as the HPL Program. He reviewed household products and talked about general things of interest to women and housewives. At some later date John Trent replaced Creighton as the HPL person. Trent also did perhaps two daytime or possibly three programs, two in the morning, one in the late afternoon, and one in the late evening hours called The Starlight Salute. I have some Program Schedules that...show the times.

Looking at the Program Schedule of August 24, 1951, I see:

6:30 am - 7:00 am John Trent
10:00 am - 10:15 am For Women Only
11:30 am - 11:45 am For Women Only
4:30 pm -4:55 pm John Trent
From the official archives of the Broadcast Pioneers of Philadelphia
Photo originally donated by Broadcast Pioneers member Roger Hendler
Audio originally donated by Broadcast Pioneers member Mike Muderick
© 2009 & 2012, Broadcast Pioneers of Philadelphia
All Rights Reserved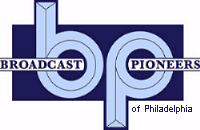 The e-mail address of the Broadcast Pioneers of Philadelphia is pioneers@broadcastpioneers.com