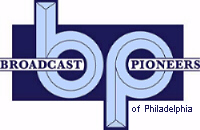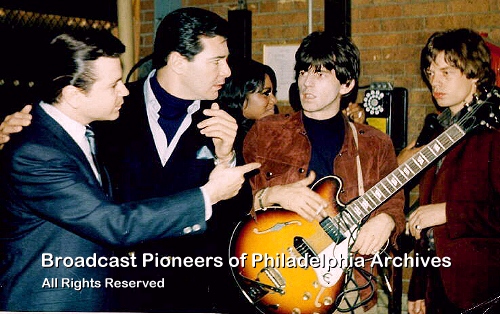 (Left to right) Alan Dean, Hy Lit, Keith Richards and Mick Jagger
Saturday, May 1, 1965
Backstage in the Philadelphia Convention Hall at 34th and Spruce Streets

This previously unreleased picture is from the personal collection of Broadcast Pioneers member Hy Lit and is exclusive to this website. At the time of the snapshot, Hy was riding on the top at WIBG, Radio 99 in Philadelphia (the city's only rock and roll station at that time).

Also in the photo is Alan Dean (the Dean Scene), also from WIBG. The other two people were from (at that time) a new group on the scene, "The Rolling Stones." This protected photograph does not fall under "fair use" and cannot be used anywhere!
From the official archives of The Broadcast Pioneers of Philadelphia
Photo from the personal collection of Broadcast Pioneers member Hy Lit
© 2003, Broadcast Pioneers of Philadelphia
All Rights Reserved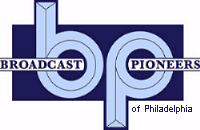 The e-mail address of the Broadcast Pioneers of Philadelphia is pioneers@broadcastpioneers.com