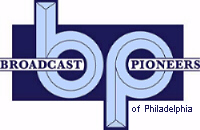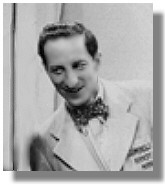 Jack Creamer
"The Handy Man" Program on WPTZ
circa 1947
Broadcast Pioneers member Jane King (aka Jane King Hall) was a regular on WPTZ in the early days. She was on The Handy Man and was a regular on the Let Skinner Do It and the later Let Scott Do It shows with Mr. Rivets. She also hosted her own daily afternoon half-hour program on Channel 3. However, The Handy Man show belonged to Jack Creamer.

Broadcast Pioneers member Jack B. Creamer (often misspelled Kreamer, Kramer or Cramer) was born on Saturday, December 4, 1915. He was graduated from Jenkintown (Pennsylvania) High School in 1933. He started in broadcasting at radio station WIOD in Miami, Florida. There, he worked as a commercial copywriter from December 1938 until September 1940. Then, he went to WINX Radio in the nation's capital, Washington, DC. He stayed with them until the summer of 1942 when he joined the United States Coast Guard. Being discharged in July of 1943, he went to work as an independent radio and television writer and producer in both New York City and Philadelphia.
On February 16, 1945, Jack married Nikki Cherry in Abington, Pennsylvania. A mention in a trade publication said that the couple have a son (no name given in the article) on May 9, 1951.

In October of 1953, he was the Radio-Television Director for the Geare-Marston Agency in Philadelphia. In May of the next year, he went with Al Paul Lefton Company as Senior Copywriter and Manager of the Radio-Television Department. In October of 1964, he was a copywriter and Audio-Visual Producer for the Advertising and Promotions Department of the Philadelphia Inquirer. In March of 1966, he returned to Al Paul Lefton as Radio-Television Director.

However, what may be the most interesting aspects of his career are his independent credits from 1943 to 1953.

He wrote and produced many programs including How Do You Say It sponsored by REM Cough Medicine and aired on the Mutual Radio Network and Consumers' Quiz for WOR and Mutual. He authored Money Go Round for the NBC Blue Network. The show starred Benay Venuta and Fred Uttal. He also wrote Detect and Collect on ABC Radio starring Fred Uttal and Lew Lehr. For the William Morris Agency, he wrote the original radio adaptation of The Sad Sack.
For ABC Radio, he penned some of Meet Me in Manhattan starring Walter Kiernan. He was one of the commentators for early television coverage of The National Horse Show from Madison Square Garden carried over CBS-TV from 1946 to 1948. He was also one of the TV commentators on WPTZ for the 1948 Bryn Mawr Horse Show, the 1952 and 1953 June Fete Horse Show, the 1948 Philadelphia Dog Show and the 1948 through 1954 Gimbels Thanksgiving Day Parades.

However, he is probably best known in the Philadelphia market for The Handy Man program carried over WPTZ from April of 1947 until February of 1953. On Friday, September 3, 1948, it was on WPTZ from 8:30 to 8:45 pm. He produced and hosted the weekly show, sponsored by Gimbel Brothers Department Stores. He had done some previous programs on Channel 3 (WPTZ) for Gimbels in 1946 and early 1947. Starting on February 28, 1949, Jack hosted a 60 minute live broadcast direct from the sales floor (different each day) of the Gimbel Brothers Department Store in Center City Philadelphia. The telecast aired from 10 am until 11 am Monday through Saturday, except on Wednesday. On that day, the department store didn't open until 12 noon. What aired in that Wednesday time period we do not know.
The Handy Man show was owned by Jack Creamer and not WPTZ. Because of that, a different version of the program aired over WOR Radio and WOR-TV and a radio version ran on the Mutual Radio Network for a year and a half. From February of 1950 to December 1, 1950, there was also a daily version of The Handy Man also airing on WPTZ and sponsored by Gimbels. In late November, "The Handy Man With Jack Creamer" aired on Channel 3 on a daily basis from 2:30 to 3 pm.

After leaving WPTZ, he did The Jack Creamer Show on WIP Radio. It was a daily 25-minute live broadcasting talk discussion program. It aired from the end of January of 1953 until July of that year.

In 1945, while The Handy Man radio program on Mutual was riding high, he wrote The Handy Household Manual a compendium of material from his radio show. It was published by Ziff-Davis and sold for $2 (about $19.62 in today's money). Almost 100,000 copies were distributed. In 1949, he worked on Grolier's Book of Knowledge Annual and their Story of Our Time book. In 1953, Coward-McCann published Jack's Horses and Men, an anthology of horse stories. From January 1945 until July 1950, he wrote a monthly column called The Handy Man for MacFadden's True Experience Magazine. He also wrote for Esquire, Parents' Magazine, American Home, Sports Illustrated, American Golfer, Good Food, Charm, Swing, Thrilling Sports, Popular Sports, Champion Sports, Thrilling Mystery, Turf & Tanbark, Real Charm, and Author & Journalist.
For a time, Jack was on two different television stations in Philadelphia, WPTZ, Channel 3 and WFIL-TV, Channel 6. This would have been during 1949. His weekly "Handy Man" show was on WPTZ, sponsored by the Gimbel Brothers Department Stores. However, starting February 28, 1949, Creamer also did a telecast on WFIL-TV called "Gimbels Television Breakfast Carnival." It aired from 10 to 11 am on Channel 6 and was was sponsored by Gimbels. Originating live from the store, each day from a different department. The program was an audience participation show and was written and produced by the Robert J. Enders Advertising Agency.
Creamer also wrote articles for both the Philadelphia Inquirer and Bulletin. Jack was a member of the Broadcast Pioneers of Philadelphia until his death in the mid-nineties.
On Friday evening, November 18, 2011, Jack Creamer was inducted posthumously into the Broadcast Pioneers' Hall of Fame.
From the official archives of the Broadcast Pioneers of Philadelphia
Written and researched by Broadcast Pioneers historian Gerry Wilkinson
Photo donated by Broadcast Pioneers member Gerry Wilkinson
© 2000, 2011 & 2014, Broadcast Pioneers of Philadelphia
All Rights Reserved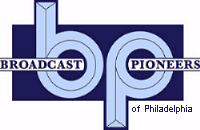 The e-mail address of the Broadcast Pioneers of Philadelphia is pioneers@broadcastpioneers.com