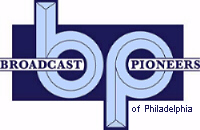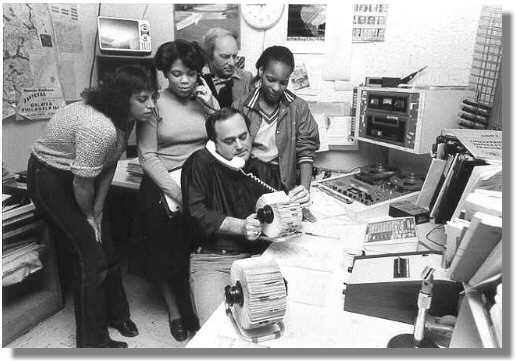 KYW Newsradio in 1980
Jay Strassberg (sitting), KYW Radio General Manager Nelson Cohn (standing) and 3 interns



Miryam S. Roddy, who is the daughter of the late Jay A. Strassberg, says that this photo dates from 1980 based on her dad's appearance and the date on the pamphlet on the right side of the desk.

In an e-mail, Miryam says "Dad served many roles at KYW, as editor, correlator, and reporter. It depended on the year and what they needed at the time. He covered many events during his tenure there -- including Three Mile Island coverage when it nearly caused a meltdown, yearly Army/Navy games (many times), the Mummer's Parade (many times), the George Washington river crossing re-enactment, and Connie who went up in a balloon...." The Connie she mentioned was Connie Wolfe, and her husband was a Philadelphia lawyer. Jay's time at KYW goes back when he worked with Broadcast Pioneers' President Pat Delsi at the station when it was called WRCV and owned by NBC.

After his radio career, Strassberg eventually ended up at the Camden County Bar Association, as its first non-lawyer director. He was there more than 20 years. While at that post, he hosted a program called "The Law and You" over WSSJ, owned by Pat Delsi, his old buddy from WRCV. Jay passed away on July 16, 2000 from Lou Gehrig's disease.

From the official archives of the Broadcast Pioneers of Philadelphia
Photo originally donated by of Miryam S. Roddy, Strassberg's daughter
©2008, Broadcast Pioneers of Philadelphia
All Rights Reserved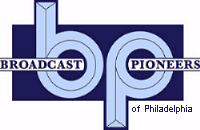 The e-mail address of the Broadcast Pioneers of Philadelphia is pioneers@broadcastpioneers.com