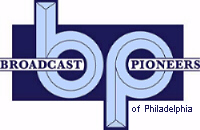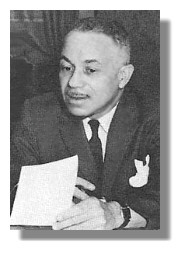 Joe Rainey
on "The Listening Post"
WDAS Radio
circa 1959

Joseph Hayne Rainey III, known to his WDAS radio listeners as Joe, was born here in Philadelphia in 1901. He was a student at the prestigious Central High School, where he was a star sprinter. He went to the University of Pennsylvania where he was a track celebrity. After Penn, Joe Rainey coached track at Lincoln University.
Later in his career, Joe developed an interest in politics. He became a City Magistrate judge. Upon his retirement, Joe entered broadcasting as a newscaster and talk show host for WDAS AM & FM. At that time, only WDAS (AM) served the African-American community. WDAS-FM was a mixture of programming serving several different audiences.
Joe Rainey, who was a Vice-President at WDAS and Executive Director of WDAS Charities, became famous as a talk show host and interviewed many important and interesting people from the African-American market including Malcolm X who appeared on the show on Friday, March 20, 1964. At that time, Joe's broadcast, "The Listening Post," was a live telephone talk show. Later, the program would evolve into an hour weekly taped program.
Wynne Alexander, the WDAS historian, told us that "The Listening Post" with Joe Rainey was one of the first (if not the first) interview shows hosted by an African-American in the United States. Joe Rainey is truly a broadcast pioneer.
Joe was a prominent civil rights advocate here in Philadelphia. In the early seventies, Joe Rainey retired from WDAS and "The Listening Post" program was taken over by Broadcast Pioneers member Bob Perkins. Several years later, in 1979, Joe decided to move to Florida and spent the rest of his years in St. Augustine Shores on the Atlantic coast. Joe Rainey passed away on Sunday, December 6, 1992 in St. Augustine.
It is confirmed that Joe was related to his namesake, Joseph Hayne Rainey, Sr. from South Carolina, the first African-American to serve in the United States Congress (1871 to 1879). The congressman's wife was from Philadelphia.
Wynne Alexander e-mailed:
He spoke of his grandfather with Bob (Klein, former General Manager of WDAS, with me, and one of our most treasured momentos is in my brother Leif's possession. When he retired, Klein and Joe exchanged gifts and Joe gave Bob the Congressman's cigar humidor.

The congressman was known for his very direct and courageous ways of trying to secure respect for himself and others, he was a hell raiser, noted opponent of the Ku Klux Klan, trying to reform the very racist system in that reconstructionist congress and a cigar smoker (as you know Joe and Bob notoriously were).

And for Joe to confer that artifact upon Bob was huge. They were very close and allied in a very noble struggle, just like the congressman before them.
Broadcast Pioneers member Gerry Wilkinson was Operations Manager at WDAS from 1970 to 1980. He said:
When I first came to WDAS, Joe Rainey had been there for many years. He was 69 years old when I first met him but his spirit, vigor and vitality were all still there and he was smart as a whip. Sort of a fragile looking man, Joe was a tower of strength in the Philadelphia broadcast market. Some of his broadcasts were so full of news that the information was picked up by the wire services.
We have in our archive, a recording of Joe Rainey's "The Listening Post" from Wednesday, April 13, 1966. This particular program was pre-recorded. Joe's earlier shows were live and the later ones on tape. This particular show was recorded, but Gerry Wilkinson feels that the programs at that time were still mostly live. This show may have been recorded because the guest, Carl Stokes, would not be available at air time.
"This program was probably recorded in the back production studio at WDAS," says Wilkinson. "Our studios never had names. They were just called AM, FM, news or production. When the station added a second production studio, the original one became known as the back production room or studio."
On this recording, if you listen carefully, you can hear sounds from the studio next door. The jocks always blasted the monitor so it would, on occasion, bleed through to the adjacent facility. The back production room also had a sofa. It must have been there where the two men who accompanied Carl Stokes to the studio sat. They were right there, inside the studio, and sometimes you can hear them in the background.
Gerry Wilkinson said, "When I came to WDAS in 1970, the programs in the back production studio were being recorded with one microphone, so the host would have to move the mike back and forth between himself and the guest. In 1970, Joe's hands shook a little, not much, but enough that Joe would always have to hold the microphone especially tight as to prevent rattling. On occasion during this recording, you can hear what seems to be Joe rattling the mike."
Wilkinson also stated, "I'm not even sure how this tape got into my possession. The station wasn't archiving programs in 1966, so it wasn't in the station's archives (which existed from 1971 to 1980). It probably was returned from engineering with several programs that I produced. After airing, the programs came back to me. The only thing I can think of is that this program was mixed in with my shows. I never even knew it existed until a few weeks ago, but I'm sure glad it does."
The guest on the broadcast was Carl Stokes. In 1962, Stokes became the first African-American Democrat to be elected to the Ohio Legislature. In 1965, Carl missed being elected mayor of Cleveland by only 2145 votes. Two years later, in 1967, Stokes would be successful in his bid to become the first African-American mayor of a large U.S. city. He was re-elected in 1969, but left politics to become a news broadcaster in 1971.
This program dates from Wednesday, April 13, 1966 and aired over both WDAS AM & FM in Philadelphia. At the time of this broadcast, Stokes was still a member of the Ohio General Assembly. His first attempt (unsuccessful) to become mayor was just 5 months in the past.
Note that the running time of this show is 27 minutes and 8 seconds long. There is a second piece of audio (2:05) that was electronically edited onto the end. Gerry Wilkinson feels that the reason for this was the Joe Rainey mistimed the show and when the engineer pointed out that the program ended two minutes early, the tape was cued to the end of the audio and restarted with Joe doing an additional two minutes and five seconds.
Listen to "The Listening Post" with Joe Rainey from Wednesday, April 13, 1966 with guest, Ohio General Assemblyman, Carl Stokes.
Here's that 2 minutes and five seconds addition that was added at the tail end of that April 13, 1966 WDAS broadcast.

From the official archives of the Broadcast Pioneers of Philadelphia
Photo courtesy of WDAS History.org
Audio originally donated by Broadcast Pioneers member Gerry Wilkinson
Written and researched by Broadcast Pioneers member Gerry Wilkinson
© 2009, Broadcast Pioneers of Philadelphia
All Rights Reserved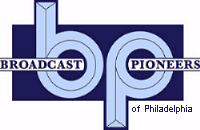 The e-mail address of the Broadcast Pioneers of Philadelphia is pioneers@broadcastpioneers.com