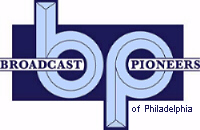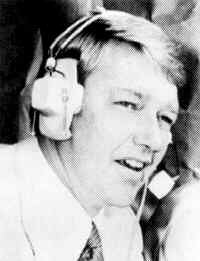 Broadcast Pioneers member Harry Kalas at the Phillies
Broadcast Pioneers member Joan Stack had been interviewing well known people for years on "The Joan Stack Show" heard over WBUX. In 1976, she spoke with sportscaster & Broadcast Pioneers member Harry Kalas, the voice of the Philadelphia Phillies. Harry was inducted into of Hall of Fame in 2000 and was our "Person of the Year" in 2004.
Listen to the Interview

Just a short note about the audio.... This interview has been on our website since 2001. In March of 2005, we dug out the original recording and re-did the audio to a much higher standard. The original was recorded on a home type cassette machine. It sat on the same table that Joan Stack and Harry Kalas used for the over-the-air broadcast. However, this recording was not off the air. It was recorded separately from the broadcast on cassette using the built-in microphone on the machine. This obviously had reduced the quality. The original cassette was now 28 years old and the pressure pads fell off. We glued them back on and transferred the audio into a digital audio format. We were then able to remove almost all of the phasing heard on the original recording. Next, we ran it through several filters to return the audio to something similar to what you might have heard on the air. After removing the tape hiss, we gave it a little more tweaking. While the final results are spectacular, it is still not perfect. It's a nice piece of broadcast history, and we're glad to have the audio.
From the official archives of the Broadcast Pioneers of Philadelphia
Audio originally donated by Broadcast Pioneers member Joan Stack
Photo originally donated by Broadcast Pioneers member Harry Kalas
© 2001 & 2005, All Rights Reserved.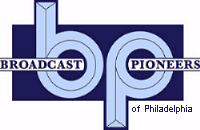 The e-mail address of the Broadcast Pioneers of Philadelphia is pioneers@broadcastpioneers.com