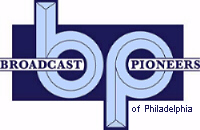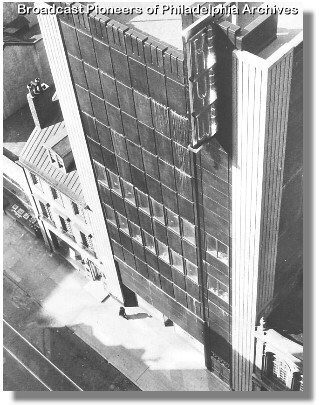 The KYW Building
1619 Walnut Street, Philadelphia
Thursday, March 24, 1938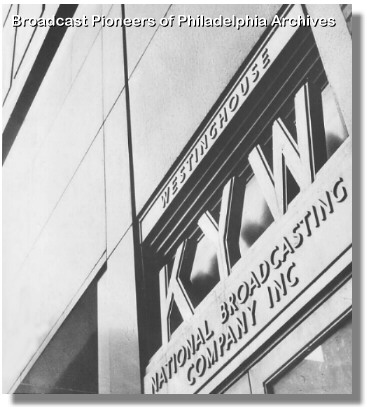 Main Entrance of the KYW Building
1619 Walnut Street, Philadelphia
Thursday, March 24, 1938
Here's two photos of the KYW Building at 1619 Walnut Street in Center City Philadelphia. It was formally opened on Monday, May 16, 1938. Tilden and Pepper, Architects designed the seven story air-conditioned building which was 51 feet in width and 114 feeet deep. Technical layout was by WCAU Radio's Chief Engineer John Leitch.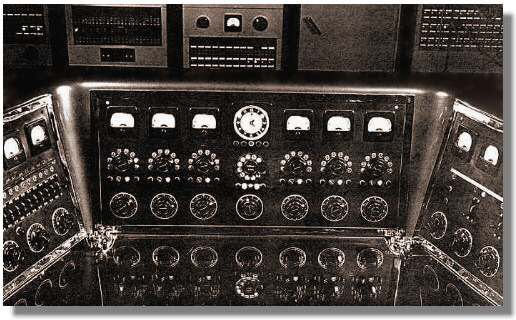 Master Control Board of KYW Radio
1619 Walnut Street, Philadelphia
1938
Here's a photo from the "brand new" master control room at 1619 Walnut Street in Center City Philadelphia. It belonged to KYW Radio and was opened on May 16, 1938. The photo dates from that same time. Master Control was located at that time on the second floor of this six story $600,000 building.

Broadcast Pioneers member Bill Bransome (a mainstay at KYW Radio for many years) e-mailed:
That Master Control pre-dates me at 1619 Walnut by about 22 years...They had a different lashup by the time I arrived... In 1938, I was working in New York City for Texaco as a messenger in the Stock Transfer Department. World War II brought about major changes in my resume...."
We also heard from Broadcast Pioneers member Charlie Higgins, a tech at WCAU for many years. Charlie writes:
What a terrific photo.... There were two Techs that worked at WCAU who had worked at KYW when this MCR console was probably in use. One was Horace Fowler and the other was Leroy Wolfe. Leroy also worked at WFIL in the Widener Building. Sorry but both men are deceased.

Although I cannot say for certain I remember vaguely visiting KYW on Walnut St. maybe around 1950 or 1951 and getting off the elevator and seeing MCR right there through the window that looked into the hallway. They also had in front of the window, I think, two wonderful Scully Disk Lathes which were purchased by WFIL while I was working there and of which I have a photo. WFIL put them in the basement at 46th St. studios. WCAU never had disk cutters like the Scully's.

If you could locate (Ralph) Bud Galow, who left WCAU in the mid 1950's to go to KYW, maybe he could tell you about this MCR if it was still in use. I think Bud is retired but he was the one that had to tell the present day management that Jean Shepherd worked at KYW before going to WOR.
We found an old radio listing dated Monday, December 24, 1951 showing Jean Shepherd on KYW Radio from 11 pm to 1 am.

While preparing for an address that Broadcast Pioneers member Charlie Higgins was giving on early broadcasting in Philadelphia, he asked us to send him a .jpg of the original photo. Here's what he e-mailed back:
On the right and left hand sides of the desk in the corner I think I see telegraph keys? These would be for communication between MCR and the transmitter and also the studio control rooms. I say this only because WCAU had a telegraph "sounder," not an oscillator, on the MCR desk at Chestnut Street (studio used until 1952) and I recall the imprint on the desk at Moorestown where there had been a key.

I'm not sure about this but I vaguely seem to think I was told when I applied at KYW for a job that you had to know code because MCR gave the studio control room the "Go Ahead" by sending "GA", dah-dah-dit dit-dah. But, I didn't take the time to learn code then and as you know it took me almost 50 years before I got my ham license and I had to learn code at 13wpm to get my General Class License. Now, all you need is 5wpm for any class of license.

Or, did several of our fellows who worked at KYW tell me that. Both Horace Fowler and Leroy Wolfe had worked there....

Oh well, radio today in 2001 is just a shell of what it once was. I think I've completed my outlines for each station, assembled whatever stills I have and slides as well. I think I'm as ready as I will ever get because just like a movie you cannot make it too long or people become bored. Hopefully I and the others will be able to hold their interest.
From the official archives of the Broadcast Pioneers of Philadelphia
Top two photos originally donated by Broadcast Pioneers member Bill Bransome
Bottom photo originally donated by Broadcast Pioneers member Gerry Wilkinson
© 2008, Broadcast Pioneers of Philadelphia
All Rights Reserved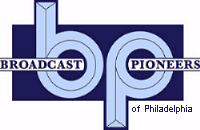 The e-mail address of the Broadcast Pioneers of Philadelphia is pioneers@broadcastpioneers.com