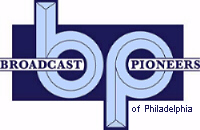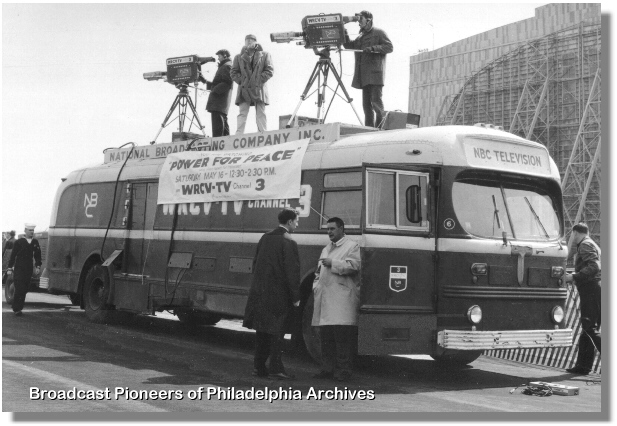 The WRCV-TV, Channel 3 Remote Truck
Personnel on roof of the truck (Left to right) Ed Semels, Bill Freeland and Jim Heitman
On the ground on the left is Product Manager Jack Leary and on the right, Jim Brooks
This photo dates from early in 1959. Since everyone is wearing coats (and some are heavy ones), our best guess is March of 1959. WRCV-TV, Channel 3 was video taping a program. "Power for Peace" refers to Armed Forces Day. The program was broadcast on Saturday, May 16th from 12:30 pm to 2:30 pm.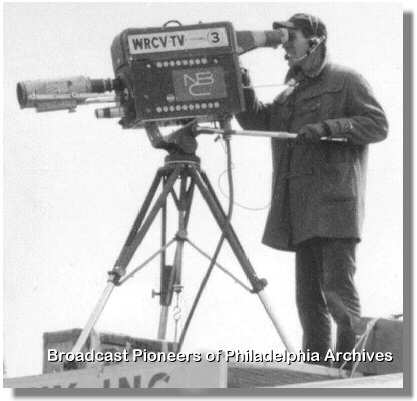 Channel 3 Cameraman Jim Heitman

Broadcast Pioneers member Bill Bransome, who worked at WRCV and KYW emailed:
Got some ID's on that KYW-TV shot from 1959. The cameraman on the left is Ed Semels, who recognized himself. I sent him the pictures. The guy in the middle on top he identifies as Bill Freeland, who was managing the shoot, and the other cameraman is Jim Heitman. The man... (at the bottom, left) is in reality Jack Leary. Now that I looked up close, I agree it is Leary.... That hangar in the background is doubtless one of the structures at the Naval Air Station in Lakehurst, NJ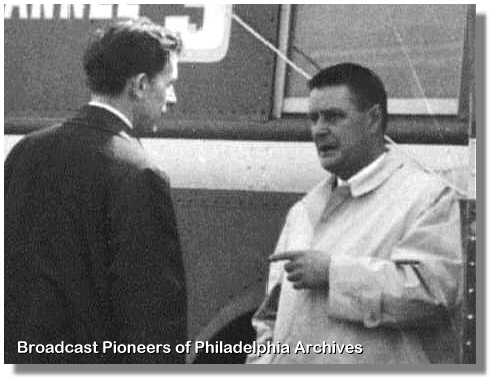 (Left to right) Product Manager Jack Leary and Jim Brooks
We have definitely identified the building as Hangar One at the Lakehurst Naval Air Station. This was the hangar used for the German airship Hindenburg.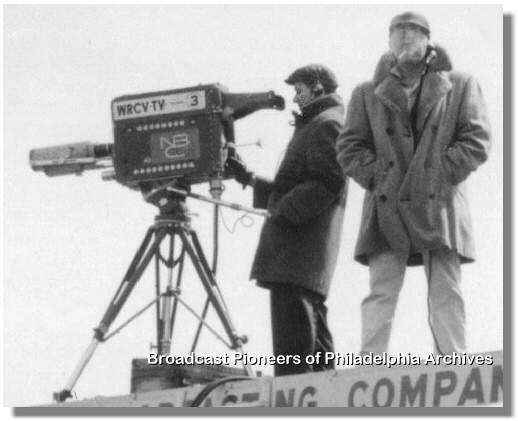 (Left to right) Ed Semels and Bill Freeland
The sign on the truck says:
You are watching "Power for Peace" being video taped for telecast , Saturday, May 16 - 12:30 - 2:30 pm on WRCV-TV, Channel 3. NBC in Philadelphia.
From the official archives of the Broadcast Pioneers of Philadelphia
Photo originally donated from the official station archives of CBS 3, KYW-TV in Philadelphia
Special thanks to John Bostwick at KYW-TV for assistance in identifying Jack Leary and Jim Brooks
Special thanks also to Jack Rattigan for assistance in personnel identification
© 2009, Broadcast Pioneers of Philadelphia
All Rights Reserved
The e-mail address of the Broadcast Pioneers of Philadelphia is pioneers@broadcastpioneers.com