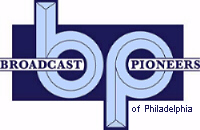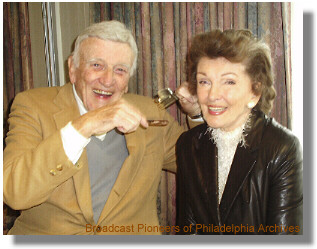 Ed Harvey & Marge Wieting
The Broadcast Pioneers of Philadelphia Luncheon
City Line Holiday Inn
Philadelphia
Wednesday, January 19, 2005
It's January 15, 1979. Marge Wieting using her married name at the time, Marge Miller, filled in for Donald Barnhouse on his radio talk program heard over WYIS. WYIS applied for and received the WXUR frequency on 690 (AM) when the FCC revoked the WXUR license. WXUR was licensed to Media, Pennsylvania and WYIS was licensed to Phoenixville, PA.
By the way, Marge is married to Broadcast Pioneers board member Ed Harvey. While in the above picture, it looks like Ed was about to pare off Marge's ear, Ed assures us that he only nibbled it.

From the official archives of the Broadcast Pioneers of Philadelphia
Photo originally donated by Broadcast Pioneers historian Gerry Wilkinson
Audio originally donated by Broadcast Pioneers member Marge Wieting
© 2009, Broadcast Pioneers of Philadelphia
All Rights Reserved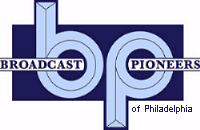 The e-mail address of the Broadcast Pioneers of Philadelphia is pioneers@broadcastpioneers.com