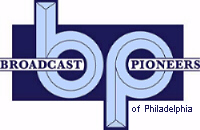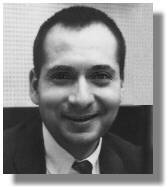 Mel Gollub
at the WIP Studios
1956
(Click on the photo to see a larger version)

Broadcast Pioneers member Melvin Gollub (called Mel by his friends) was born in Philadelphia on Tuesday, June 19, 1928, the 171st day of the year.

While still in high school, he worked as a part-time announcer at WHAT Radio (1340 on AM) here in Philly. Upon being graduated from Overbrook High School in 1946, he became full-time at WHAT. The next year, in 1947, he moved to WNAR in Norristown, PA (1110 on AM). He stayed there until 1949.

At that time, he received his big break by going to one of Philadelphia's powerhouses, WIP Radio (610 on AM) where he used the air name of Mel Stewart. At the station, Mel says: I started as a summer relief announcer; part-time the rest of the year in order to be a full-time college student. While at WIP Radio, he worked with the legendary John Facenda.
Mel tells us this story (dated August 28, 2006):
I, Mel Stewart, seem to be the only surviving Broadcast Pioneers member who was employed during Gimbels' WIP ownership. (Actually, Broadcast Pioneers member Allen Stone worked at WIP before Mel's time). Bill Webber and Nat Wright were later WIP (Metromedia) staffers.

Until 1952, Facenda was not confident that he should resign his fulltime WIP staff announcer position for Channel 10 exclusively. He was featured on many of the WIP newscasts. He was in reality, only a fulltime staff announcer working Monday through Friday from 3 pm to 11 pm.

Ben Gimbel conceded that Facenda could leave the premises for channel 10 daily at 7 pm under certain conditions. His scheduled station breaks from 7 pm to 11 pm could be consigned only to a current AFTRA - WIP staffer and that he, Facenda, must pay that person directly for substituting.

Dan Curtis was on the same shift, but Gimbel didn't want him to do all of the breaks during the Mutual Network programs. He wanted two alternating voices. Therefore, Curtis was excluded from announcing Facenda's IDs.

I was Facenda's Evening alternate during most of the 1950-52 period. Here's what Facenda was missing Monday through Friday from 7 pm to 11 pm. Two types of live stations breaks:

BREAK ONE: Philadelphia's pioneer voice, WIP, Philadelphia.... (followed by either a live or transcribed spot).

BREAK TWO: The Gimbel Broadcasting Service, WIP, Philadelphia.... (followed by either a live or transcribed spot).

During this lifeless shift, I was able to hit the books because I was enrolled as a day student at Drexel's School of Business Administration. I graduated in 1953. Of course, the name on the degree is Melvin Gollub, not Mel Stewart.
Beginning in 1952, Mel went full-time at WIP. Gollub recalls, Most of this period, I was the "Dawn Patrol" DJ 2 nights a week and staff announcer 3 days a week. In 1953, Mel was granted a Bachelor of Science degree in Business Administration from Drexel University. Two years later, he received his Master's with an MA in Communications from Temple University, one of the first to be presented with that degree from the school.

Mel Gollub left WIP Radio in 1958 to build, own and operate a brand-new radio station, WIFI, 92.5 MHz. In 1970 he sold the 50,000 watt station to General Cinema (current call letters are WXTU).

He built, owned and operated Atlantic City's first FM radio station in April of 1961, WRNJ (95.1). It was located atop the Ritz Carlton hotel at the shore. Two years later, in 1963, he sold WRNJ to Eddie Newman, a night talk host at WPEN Radio in Philadelphia. Its current call letters are WAYV.

On February 1, 1971, he purchased KOME-FM in San Jose, California. He sold it two years later (May 1973) to Infinity Broadcasting. KOME, now using the call letters of KUFX was the very first radio acquisition of the broadcast group that now owns several radio outlets in the Philadelphia market (and many more around the country).

A month later, in June of 1973, Mel purchased WESM (92.7 on the FM dial) in Prince Frederick (the county seat), Maryland. It was Calvert County's only radio station and part of the Washington DC metro market.

In 1975, he built, owned and operated WLRB (also on 92.7) in the Lewes-Rehoboth Beach area of Delaware. He sold this station to David Schoumacher, a TV news anchor at one of the Washington, DC television stations. Its current call letters are WGMD.

When he acquired WESM, he changed the call letters to WMJS. Why? Mel explains: M is for my son Mark; J is for my daughter Judith; S is for my daughter Susan."

Mel Gollub and his wife, Ada ran WMJS for 27 years as an "active community station." At the turn of the century, the Gollubs sold the station to Mega Communications, the Spanish language chain for $5.25 million dollars.
On April 11, 2005, Mel had a heart attack and two days later had quadruple by-pass surgery. Here's what happened. On April 11th, a woman lost control of her car, drove into Mel's brand-new automobile parked in his driveway and did over four thousand dollars in damage. Gollub got his digital camera and started taking photos of the vehicles. Then Mel and the woman came into the Gollub home to get insurance information. As Mel's wife, Ada was taking these details, Gollub felt as strong, sharp pain in his chest. Mel said: I never felt anything like this before.
Ada called 911 and he was rushed to an area where a helicopter could land. A medevac crew took him to Washington Hospital Center, named 2004 Hospital of the Year by U.S. News and World Report Magazine. There, they put in three shunts and told him that he needed quadruple by-pass surgery which was scheduled for two days later.
While the operation was being performed, his heart stopped. Mel said that he was clinically dead for 6 seconds before they got his heart working again.
A year before, Mel had a shortness of breath and was hospitalized at a local Maryland community hospital which found nothing. Mel Gollub is now fine and on the road to recovery.

From the official archives of the Broadcast Pioneers of Philadelphia
© 2007, Broadcast Pioneers of Philadelphia
All Rights Reserved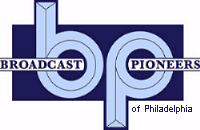 The e-mail address of the Broadcast Pioneers of Philadelphia is pioneers@broadcastpioneers.com