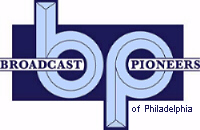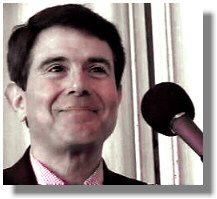 Merrill Reese
at the Broadcast Pioneers luncheon
Wednesday, March 19, 2003

Broadcaster Merrill Reese has been in the industry for more than 40 years. He started out at WRTI-FM, the Temple University radio station, which at that time was totally student run and operated. Here's an ad from 1962 promoting Merrill Reese doing Temple Basketball broadcasting.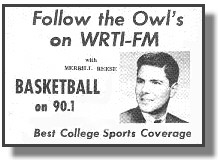 Merrill needed a chair in order to interview Temple Basketball star Jim Williams. It was recorded on tape and later broadcast over WRTI-FM. Jim was drafted by the Chicago Bulls in 1967.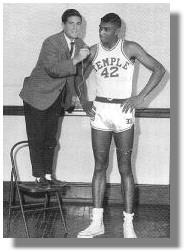 In the Spring of 1963, Merrill Reese and fellow WRTI sportscaster Phil Jasner broadcast live, a 14-inning Temple vs. LaSalle baseball game. It was sent back to the studios in the basement of Thomas Hall through a regular telephone line and aired over WRTI-FM. It was commonplace in that era. We have is a two minute clip of the game's wrap-up.

From the official archives of the Broadcast Pioneers of Philadelphia
Clip and two old photos courtesy of the WRTI Old Gang website
Clip from the personal collection of former WRTI broadcaster Bill Stock
Two vintage photos and encoding of clip, courtesy of Broadcast Pioneers member Jerry Klein
2003 photo of Merrill Reese taken by Broadcast Pioneers member Gerry Wilkinson
Permission to use two vintage photos granted by Broadcast Pioneers member Merrill Reese
© 2001 & 2010, Broadcast Pioneers of Philadelphia
All Rights Reserved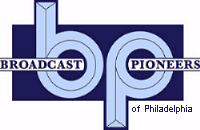 The e-mail address of the Broadcast Pioneers of Philadelphia is pioneers@broadcastpioneers.com